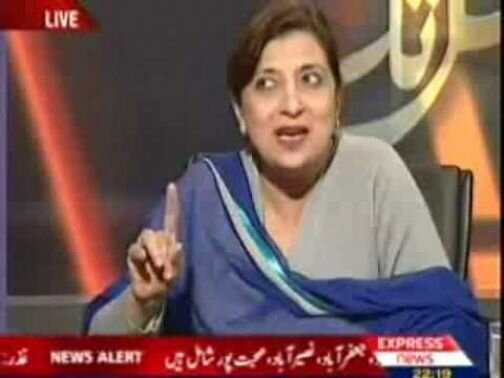 Print This Post

 Email This Post
President Asif Zardari's aide Fauzia Wahab, reviled in Pakistan for her blunt defense of an American spy who killed two Pakistanis in broad daylight, while his colleagues killed a third passerby and caused the young wife of one of the killed, in her mid twenties and married only for six months, to commit suicide.
Fauzia Wahab Angers Her In-laws By Defending American Mercenary
One of them didn't like her coming out to defend killer-of-two Raymond Davis
Her Party Will Face Defeat In Next Elections If It Releases That Murder'
Fauzia Wahab, a parliament member and aide to President Zardari, this week publicly defending Raymond Davis, an American hired-gun contracted by the US military or intelligence who spied in Pakistan under diplomatic disguise. Her pro-US government is desperate to release the spy under US pressure. But her in-laws are so disgusted with her, like most Pakistanis, that a 90-year-old relative of her late husband, Mr. Khaleel Siddiqi who resides in Canada, has publicly asked her to drop her former husband's name. Mr. Siddiqi , along with his full name, age, email address and telephone number, at PressPakistan, an Internet group of Pakistani journalists. PakNationalists.com reproduces this comment from the source without any major modifications.
KHALEEL Y. SIDDIQI | Tuesday | 15 February 2011 | Case Of American Mercenary Raymond Davis
WWW.PAKNATIONALISTS.COM
I AM ASHAMED TO DISCLOSE THAT FAUZIA WAS THE WIFE OF LATE WAHAB SIDDIQI, A NEPHEW OF MY LATE WIFE. WAHAB WAS A FAMOUS JOURNALIST IN KARACHI, PAKISTAN, WHO NEVER COMPROMISED WITH ANY NON-SENSE. 
WILL FAUZIA BE KIND ENOUGH TO REMOVE THE NAME OF "WAHAB" FROM HER NAME ?
WILL SOME ONE MAKE HER AND PPP LEADERSHIP UNDERSTAND THAT

AMERICA CAN NOT AFFORD

TO DISPLEASE OR ANNOY PAKISTAN.
 Pakistan can:
BLOCK AND STOP ALL SUPPLIES GOING BY ROAD TO US & NATO ARMIES IN AFGHANISTAN;
CANCELS ALL PERMISSIONS GIVEN TO US ARMY / INTELLIGENCE, TO OPERATE FROM FAKISTAN;
HANDOVER GAWADER PORT TO CHINA THUS ENDING US CONTROL ON THE PERSIAN GULF AND ARAB OIL;  AND
[END] ARMY OPERATIONS AGAINST AL-QAEDA & TALIBAN FROM ITS NORTH-WESTERN BORDER.
 US WILL FACE DEFEAT IN AFGHANISTAN, HER ECONOMY WILL COLLAPSE, HER REPUTATION AS A SUPERPOWER WILL BE [GONE].
CAN USA AFFORD IT FOR THE SAKE OF ONE OF ITS CIA AGENTs WHO HAS , IN FACT, KILLED TWO INNOCENT PAKISTANIS IN LAHORE?
PLEASE TELL FAUZIA THAT IF THAT MURDERER OF TWO PAKISTANIS IS RETURNED TO USA, PPP WILL NOT RETURN TO POWER IN THE NEXT ELECTIONS.  IT IS THEREFORE AN IDEAL OPPORTUNITY FOR PPP TO REGAIN ITS LOSING POPULARITY AND PUNISH THAT SON-OF-A-BITCH ACCORDING TO PAKISTAN PENAL CODE.
" IN-NA  A'LI-NA LUL HUDA" (AL-QURAN)  "OUR RESPONSIBILITY IS TO SHOW YOU THE RIGHT PATH" .    
Khaleel Y. Siddiqi
B.A., LL.B., D.S. & B.M.(LONDON, UK)

Phone:
Reproduced from the Google group .
© 2007-2011. All rights reserved. PakNationalists.com
Verbatim copying and distribution of this entire article is permitted in any medium
without royalty provided this notice is preserved.