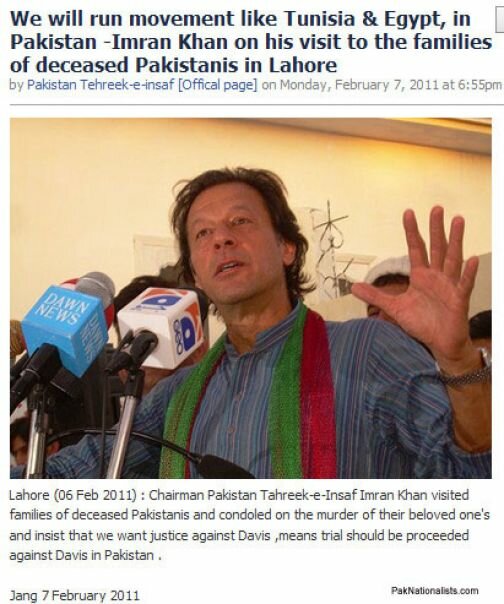 Print This Post

 Email This Post
Imran Khan First Pakistani Politician To Visit Pakistani Victims Of American Terror
CORRESPONDENT | Monday | 7 February 2011
WWW.PAKNATIONALISTS.COM
LAHORE, Pakistan—Imran Khan became the first Pakistani politician to visit the families of the three Pakistanis killed by a team of American special agents in broad daylight in Lahore on 27 January.
The murder was committed by a skilled and a well-armed team of US spies claimed by the US government to be 'diplomats'. [See Lahore: A Target Of Indian Spies, And Now American Spies]

No other politician condoled so far with the Pakistani victims. Nawaz and Shahbaz Sharif, the heads of the provincial government, are busy managing the 'crisis' with the Americans and the pro-US Pakistani government is scrambling to get the accused Americans, five in total and one under arrest, acquitted by claiming diplomatic immunity for them.
Mr. Khan visited the victims' families on Sunday. During his visit television channels broke the news of the death of the young wife of one of the three victims who committed suicide by eating rat poison and told hospital doctors before her death she did not expect justice from the pro-US government of President Zardari. Reports suggested the young Pakistani woman, Shumaila Kanwal, 25, was under pressure by Pakistan's federal Interior Ministry to drop her murder case against the American killers. [See Pressure Kills Another Pakistani Victim Of US Agent Raymond Davis]

Mr. Khan called on the government of the United States to accept the legal process in the case of its undercover defense contractor who carried illegal weapons on Pakistani soil and murdered Pakistani citizens.
He made some of his strongest statements yet on the apparent weakness of the government of President Asif Zardari in front of US pressure.
Khan, who is the chairman of Pakistan Justice Movement, known as Pakistan Tehreek-e-Insaf, said Pakistanis want justice for the victims and warned the Pakistani government of a Tunisia and Egypt-like uprising if the government fails to protect the rights of Pakistani citizens.
All pictures are credited to Pakistan Tehreek-e-Insaf.
© 2007-2011. All rights reserved. PakNationalists.com
Verbatim copying and distribution of this entire article is permitted in any medium
without royalty provided this notice is preserved.