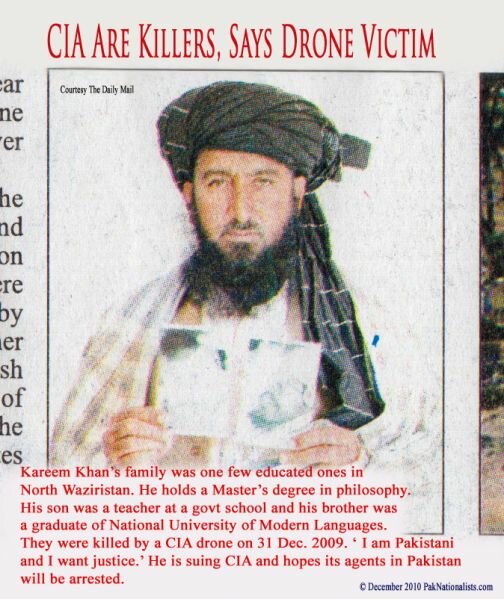 Print This Post

 Email This Post
Challenges strikes precision overblown | Pleads innocence kin killed in US raids | Vows paying damages to US proves relatives' terror links
"CIA officials are not part of United States armed forces, therefore under international law they are civilians directly participating in hostilities. Not holding diplomatic or military status, CIA officials have no immunity and therefore are liable for murder and damages under the laws of Pakistan and the principles of natural justice throughout the world."
UMBREEN TURK | Friday | 3 December 2010 | DailyMailNews.com
WWW.PAKNATIONALISTS.COM
ISLAMABAD, Pakistan—If US defined the militant profiling than every person from tribal areas who grows beard, offers the prayers and talks about religious norms is militant .Following are the excerpts of Kareem Khan during his exclusive interview with The Daily Mail on Tuesday. Kareem Khan is a Pakistani citizen from North Waziristan who lost his dear ones in American Drone attacks one year back and sued the CIA over drone raids.
Kareem Khan challenged the precision of drone attacks and specifically questioned the precision of 31st December 2009 attack where in three innocent lives were taken by CIA in a secretive mode. He further challenged that if CIA can establish involvement of any of victims of 31st December attack in terrorism he will pay damages to United States instead.
While talking about the catastrophe he told The Daily Mail how his18 years old son Zaenullah, his young brother Asif Iqbal and a mason who was working on construction of village masque and had came from another village of Khyber Pakhtunkhawa were killed.
Kareem Khan told The Daily Mail that "his family is one of few educated families from the North Waziristan .He himself is M .Phil while his son was employee of Government school in town and his brother was graduate of National University of Modern languages from Islamabad .After compilation of his studies he went back to his town to add his positive contribution in educational uplifting of tribal area. They were innocent Pakistani citizen of Islamic Republic Of Pakistan whose fundamental rights have been guaranteed under the Constitution of Islamic Republic of Pakistan
In the response of one question about the families of victims he told Asif Iqbal left two years old son Muhammad Kafeel and a widow. Mohammad Kafeel has no one to look after as his mother is suffering great emotional and mental trauma. . "I lost my son and brother and now family's full responsibility is now on me now we are living in uncle's house waiting for justice or compensation," he told The Daily Mail.
Kareem Khan told the Daily Mail after this tragedy "I went here and there for Justice but all in vain because of undefined and so called system in tribal areas than one of my good friend suggested me to ask for Justice through legal way". On November 29 2010 I through my lawyer Mirza Shahzad Akbar issued a legal notice to United States Secretary Defence Mr. Robert Gates, Director CIA Leon Panetta CIA Islamabad Station Chief Jonathan Banks for damages of $ 500 millioon, he added.
He also told that Drone attacks in tribal areas are carried out by CIA in langly, Virginia USA with co-ordination of local intelligence gathered by spies on ground in tribal area. CIA, s Islamabad station Chief, Jonathan Banks coordinates such intelligence through the network of on ground spies, who are paid a hefty amount for pointing out any militant. On these uncorroborated reports, CIA is executing people of tribal areas.
He stated that "CIA Director Leon Panetta has been reported in media saying that 'Drone attacks are precise and limited in terms of collateral damage'.
"CIA officials are not part of United States armed forces, therefore under international law they are civilians directly participating in hostilities. Not holding diplomatic or military status, CIA officials have no immunity and therefore are liable for murder and damages under the laws of Pakistan and the principles of natural justice throughout the world," Kareem Khan explained.
Kareem Khan also grumbled that media is not playing vibrant role and journalists even don't bother to find ground realities. Every time we watched in media that numbers of militants are killed in the result of drone attacks. All the time they go for figures they don't even bother to differentiate the innocent people and militants. Unfortunately they just rely on people who are present there and love to create hype for their own purpose.Kareem Khan gave the example of Hakeem Ullah Mehsood, Jalal Din ,Aimen Alzwari and Sheikh Usamma and told that according to so called reliable sources media published news regarding their, several times deaths . Which is very funny situation because in my limited knowledge a person died once in his or her life.
Shahzad Mirza Akbar ,the legal representative of Kareem khan who was present during the interview told The Daily Mail Drone attacks on house of his client is in clear violation of United Nations declaration of Human Rights ,International Covenant on Civil and Political Rights(ICCRP) and the citizens of Pakistan through the constitution of Islamic Republic of Pakistan .Those who have committed this atrocity are liable to be charged under the Penal Code of Pakistan and no law custom or authority gives CIA the permission to carry out killing in the sovereign territory of another country .So this is illegal act of United States and CIA and cannot be recognized as legal at any judicial or legal forum .The UN special report on extra –judicial ,summery and executions declared in 2004.
"Empowering Government to identify and kill "known terrorists" places no verifiable obligation upon them to demonstrate in any way that those against whome lethal force is used are indeed terrorists, or to demonstrate that every other alternative had been exhausted".
He told Court issued the notice on November 29, 2010 and count down has been started from today .He also talked about next step is to go in American court for justice. He also gave the example of Yamani citizen who did this practice in American courts in the result of Drone Attacks .He said there are some legal hitches but if we gathered 60 to 70 people we can claim "Alien Tort"
"The Alien Tort Claims Act (ATCA) of 1789 grants jurisdiction to US Federal Courts over any civil action by an alien for a tort only, committed in violation of the law of nations or a treaty of the United States." He explained.
While talking about the Postpartum of the bodies he said that this formality is for the criminal case while we are approaching through Civil Court .He also told that his case is very strong and they already gathered enough proves.
In the response of one question regarding the reaction of Drone attacks in form of suicide attacks Kareem Khan said he don't believe on this He also gave the example of b last in Rawalpindi Masque and Peshawar Market He said a jacket carried by a person can't generate devastation on such huge altitude.
He has further appealed to all those innocent victims/heirs of drone attack to come and join hands to get justice for their lost loved ones. Kareem Khan has also requested the Federal Government through Ministry of Interior to put Mr. Jonathan Bank's name on Exit Control List till settlement of his legal claim.
© 2007-2010. All rights reserved. PakNationalists.com
Verbatim copying and distribution of this entire article is permitted in any medium
without royalty provided this notice is preserved.