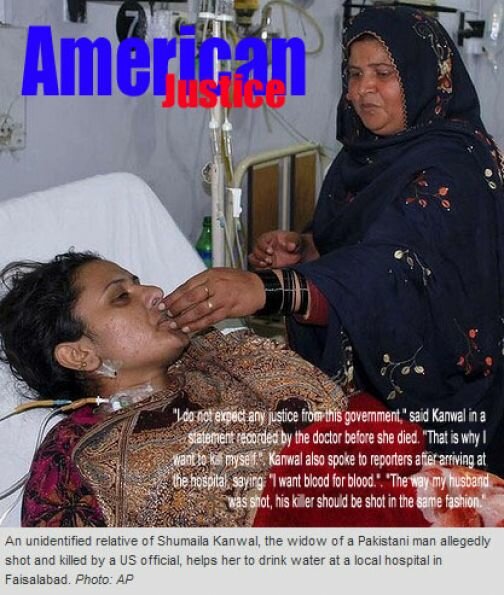 Print This Post

 Email This Post
Pressure Kills Another Pakistani Victim Of US Agent Raymond Davis
Shumaila Kanwal was under pressure from Interior Ministry to forgive the American killer

US diplomats and a pro-US government take the life of a young couple
Her last words, 'I don't expect justice from this government'
Four Pakistani citizens are now dead because of an American killer who is being shielded by the US government.
SPECIAL REPORT | Monday | 7 February 2011
WWW.PAKNATIONALISTS.COM
ISLAMABAD, Pakistan—Pressure from the federal government and especially from the Interior Ministry on the families of the victims of an American spy illegally operating in Pakistan has claimed the life of a young wife, taking the number of those killed by the actions of Raymond Davis to four Pakistani citizens.
The families of the three Pakistanis killed by covert American agents faced tremendous pressure last week from the pro-US government to forgive the killers.
Far from protecting the rights of its own citizens, the Pakistani government has been scrambling to find ways to release four Americans wanted in the murder of three Pakistanis falsely accused by the US Embassy of being robbers. Unknown Pakistani officials have offered US Green Card and blood money which have been roundly rejected by the families.
But apparently Shumaila Kanwal could not take the pressure. Her husband Muhammad Faheem was not only shot in the back by suspected CIA operative Raymond Davis, which defies any possibility of attempted robbery or attack, but the US Embassy brazenly came out to dub Faheem as a robber, without any evidence. Talks are underway between lawyers and the families of Faheem and another victim to sue the US Embassy for defamation, in addition to obstruction of justice and misleading a criminal investigation.
Shumail, 25, was married six months ago.
Lamenting a Pakistani state run by rulers who can no longer protect their own citizens, Shumaila committed suicide by swallowing rat poison on Saturday. She was rushed to a hospital in Faisalabad in critical condition where she died a few hours later.
"I do not expect any justice from this government," said Kanwal in a statement recorded by the doctor before she died, according to a report. "That is why I want to kill myself."
Kanwal also spoke to reporters after arriving at the hospital, saying: "I want blood for blood."
"The way my husband was shot, his killer should be shot in the same fashion," she said.
Interior Minister Rehman Malik and Pakistani ambassador to Washington Husain Haqqani are scrambling to get the American killer released. Together with the US government they are badgering the Pakistani Foreign Office to change its position and certify that the accused Americans, apparently working for either CIA or US military without permission from Pakistani government, be declared as diplomats and granted immunity from prosecution.
© 2007-2011. All rights reserved. PakNationalists.com
Verbatim copying and distribution of this entire article is permitted in any medium
without royalty provided this notice is preserved.