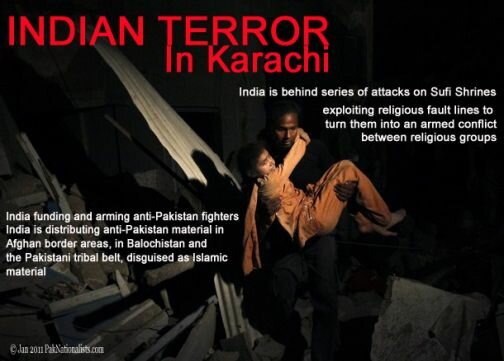 Print This Post

 Email This Post
India Fomenting Terror In Pakistan's Largest City, Karachi
Karachi is an Indian target. Attacks on religious shrines, especially Sufi shrines, are foreign-instigated and aim at starting a civil war in the country, exploiting tensions on the Pakistan-Afghanistan border. India is arming and funding anti-Pakistani fighters and distributing anti-Pakistan literature in Balochistan and the tribal belt.
MOHAMMAD ALMEZEL | Managing Editor Reporting | 28 January 2011 | Gulf News
WWW.PAKNATIONALISTS.COM
ISLAMABAD, Pakistan—As security officials try to gather forensic evidence at the scene of yet another terrorist attack in Pakistan's largest city Karachi, intelligence and military officials pointed the finger of blame at neighbouring India.
The Tuesday suicide attack on a police vehicle on Karachi's main highway left three dead, including two policemen. No one claimed responsibility for the attack but security officers in the city told the local media they were certain that "foreign hands" were behind the attack.
But in interviews with Gulf News in Islamabad shortly before the attack, senior Inter Service Intelligence (ISI) and army officials accused India of attempts to "destabilise Pakistan" by supporting, by "funds and arms", militant groups in Karachi, the economic hub of the country.
Fomenting sedition
Karachi has been the scene of dozens of attacks and target killings over the past few years. Pakistani officials say the attacks, especially those on religious shrines, aimed at "fomenting sedition among religious communities" to destabilise the country.
"India is playing a dangerous game" in Karachi, a top ISI official told Gulf News on condition of anonymity. He said his agency has "evidence" that Indian intelligence service was arming and funding "extremist elements" to weaken their Muslim neighbour.
"People are getting money from India to create problems for Pakistan in Karachi" and other areas, he stressed.
A senior army official told Gulf News that India realises that the Pakistani army is "over-stretched" because of the extensive anti-terror operations in the Federally Administrated Tribal Areas (FATA), the provinces that border Afghanistan. "Therefore, they support elements that wage terrorist war on our urban cities," the senior officer said.
Relations between the two neighbours have been strained and talks stalled since the Mumbai terrorist attacks in 2008 which killed more than 160 people, including foreign tourists.
India alleged that the attackers were members of Lashkar-e-Taiba, the banned Pakistan-based militant organisation.
Another Pakistani ISI official, speaking to Gulf News said he believed the Mumbai attackers belonged to a splinter group, which left the main Lashkar-e-Taiba after the latter stopped anti-Indian actions in Kashmir under pressure from Islamabad.
The foreign ministers of the two countries are expected to meet in two months in Delhi but a senior Indian official told the Pakistani media yesterday that Delhi "doesn't expect a breakthrough" in the proposed talks.
"There is a trust deficit between India and Pakistan," Indian Foreign Secretary Nirupama said.
"However, I'm sure things would move ahead," after the talks. Pakistan's State Minister for Foreign Affairs Nawabzada Malek Ahmad Khan told Gulf News that Islamabad was interested in real talks with Delhi.
"We hope to see some breakthrough. Our engagement with India is not for mere handshake or photo sessions. It is a very serious issue."
Concerned
He added that Pakistan was "concerned over India's involvement in Afghanistan," hinting that India was "using Afghan soil to destabilise Pakistan and support anti-Pakistan movements" in Pakistan.
A military official said India is being suspected of arming and funding extremists elements and even distributing anti-Pakistan hate literature in the Pakistani province of Balochistan, which borders Afghanistan.
The senior ISI official said his agency had sent 10 requests to the Indian intelligence service for a meeting between the heads of the two agencies but the Indian side refused every one of them.
"We told them we can both put all our cards on the table and try to address all issues," he explained. He said the offers were sent through "friendly" countries including the US, the UK and Gulf states.
"India should learn a lesson that it will be the most affected country if Pakistan is destabilised," the official said. "They should look inward and tackle terrorism issues within their own country."
Published by the Gulf News
© 2007-2011. All rights reserved. PakNationalists.com
Verbatim copying and distribution of this entire article is permitted in any medium
without royalty provided this notice is preserved.