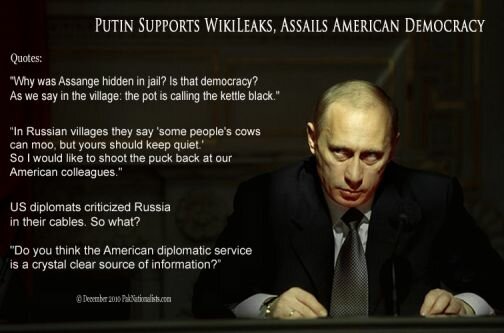 Print This Post

 Email This Post
Putin Supports Assange, Ridicules Washington's Democracy Claim
As sources in the Kremlin suggest WikiLeaks founder be nominated for a Nobel Prize, Russia's Vladimir Putin voiced support for Julian Assange and assailed the United States for its 'undemocratic' attitude toward the Website owner. He said Americans have no right to lecture others on democracy after this incident.
RIA Novosti | Thursday | 9 December 2010
WWW.PAKNATIONALISTS.COM
MOSCOW, Russia—The arrest of enigmatic Wikileaks founder Julian Assange indicates a problem with democracy, Russian Prime Minister Vladimir Putin said on Thursday.
"Why was Assange hidden in jail? Is that democracy? As we say in the village: the pot is calling the kettle black," Putin said in response to a question on Russia's undemocratic image in US embassy cables.
"In Russian villages they say 'some people's cows can moo, but yours should keep quiet.' So I would like to shoot the puck back at our American colleagues," Putin added.
He brushed aside what US diplomats wrote about Russia in their secret cables. "Do you think the American diplomatic service is a crystal clear source of information? Do you think so?" Putin said when asked about the cables at a news conference with visiting French Prime Minister Francois Fillon.
Assange was arrested in London on December 7. His extradition to Sweden, where he is wanted on sex assault charges, is pending.
The 39-year-old Australian currently tops an online poll for Time Person of the Year. The choice will be made by the editors of the magazine next Wednesday.
On Wednesday, a source in the Kremlin told RIA Novosti Assange should be nominated for a Nobel Prize for exposing Washington's bully diplomacy and unethical meddling in other countries.
As initial euphoria over the leaks subsides, analysts are questioning why American and British newspapers entrusted by WikiLeaks to release the cables selectively focused on countries at odds with US, like Russia, China, Pakistan, Saudi Arabia and others.
Touted as a scandal for US government, most of the cables leaked by the British and American newspapers embarrass countries at odd with US policy but hardly reveal real US secrets.
© 2007-2010. All rights reserved. PakNationalists.com
Verbatim copying and distribution of this entire article is permitted in any medium
without royalty provided this notice is preserved.