Print This Post

 Email This Post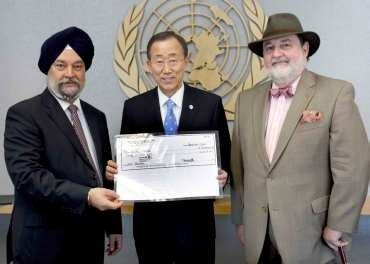 A

mbassador Haroon has provided Pakistani support in the Asian Group for India's bid for a permanent seat in the UN Security Council

When Indian foreign minister blasted Pakistan at the UN, our envoy refused to reply to avoid criticizing India. Other diplomats call him and the Indian ambassador an 'Inseparable Twin'

Pakistan has an India-sympathizer as its UN Representative

'Banana-Republic' Pakistan under US tutelage appoints the likes of Haroon and Haqqani to crucial diplomatic posts

Even ZAB, PPP's founder, had better sense when he countered India's moves inside UN
By SHIREEN M. MAZARI
Wednesday, 6 October 2010.
The Nation.
WWW.PAKNATIONALISTS.COM
ISLAMABAD, Pakistan—In these trying times, when India is hysterically accusing Pakistan of all manner of fanciful evils of terrorism to divert attention from its quagmire in Occupied Kashmir, our diplomacy has suffered an unexpected blow from an unexpected source.
On crucial matters at the UN or any other international forum one expects the most senior diplomat – the Envoy himself – to stand up and state the country's case. Unfortunately, this is not happening in the UN in New York, especially in cases where a condemnation of India is expected.
For instance, on Wednesday 29 September, in the rights-of-reply during the high level debate in the UNGA, following Krishna's statement on Kashmir, Pakistani Envoy Hussain Haroon did not exercise his right of reply because it he would have had to say that Indians won't like. Instead, he let a junior foreign office official do that job while he sat in the routine UNSC debate on Afghanistan, which was not as important at that time.
Haroon and his Indian counterpart Hardeep Singh Puri are so friendly and stay so close to each other that they even travel in the same car to various functions. In the South Asian circles they are known as "inseparable twins."
Thanks to Pakistan's support, lined up by the India-sympathizer Pakistani Envoy with the help and support of the President himself (he was kept in culinary delight in prison in Karachi because of the home cooked meals sent to him by Haroon, a gourmet cook himself), the Asian Group at the UN has already endorsed India for the UNSC non-permanent seat in the upcoming elections for this. With Ban Ki-moon's re-election set to take place in November 2011, for another five-year term beginning January 1, 2012, India will be one of the critical voters in the Security Council which makes the recommendation for the SG to the General Assembly. Already an extremely pro-US SG, from now on Ban Ki-moon will not do anything nor will allow the UN system to do anything that would annoy any of the present and future UNSC members. Ban will continue whipping countries like Iran, Syria, Venezuela, Cuba and so on.
In this connection it is important to note that investigation into Indian human rights offences in Occupied Kashmir will also be directly affected by the Pakistan's move to endorse India for the UNSC seat.
The Human Rights Council is mandated to investigate crises in all countries. Its teams produce reports which it adopts before they go to the UNGA. In New York, the HRC report on Kashmir – if produced – may not muster enough votes because of India's expanding influence, especially on the commercial side. So the report on Kashmir will only have a temporary effect when it is adopted by the HRC in Geneva, i.e. if India allows its investigation team to go to the Occupied Kashmir in the first place. Israel never allows such teams into Palestine or Israel, and India will adopt the same stance. In 1975, India sought UNSC membership, and Zulfikar Ali Bhutto challenged Mrs. Gandhi's move by putting Pakistan for the non-permanent seat.
As an expert on multilateral diplomacy, Bhutto knew the UN thoroughly. He played his card brilliantly and with the able support of Agha Shahi and Iqbal Akhund, he overwhelmed India, which at that time was a leader in the 128-member NAM. Now Pakistan is not only denying itself the option of even thinking about defeating India at the UN, but its Envoy is actually supporting India at a time when the latter's human rights abuses in Occupied Kashmir are at a peak. Is this what our diplomacy has come down to at the UN?
This column was published by The Nation. Reach Dr. Mazari at
© 2007-2010. All rights reserved. PakNationalists.com
Verbatim copying and distribution of this entire article is permitted in any medium
without royalty provided this notice is preserved.