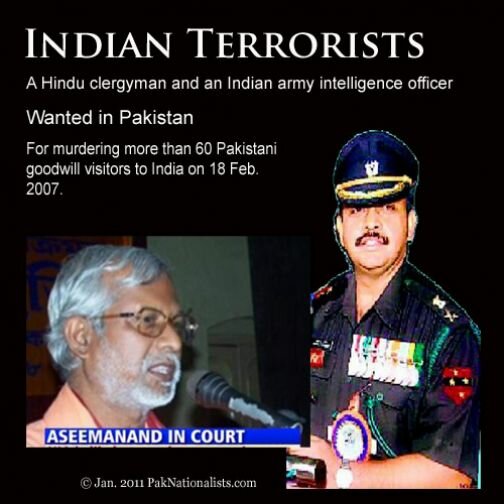 Print This Post

 Email This Post
Pakistan Set For Extradition Request For Two Indian Terrorists
The two, one Hindu clergyman and the other a serving officer of the Indian military intelligence, killed more than 60 Pakistani goodwill visitors who were on a peace mission to India in 2007.
THE DAILY MAIL | Saturday | 22 January 2011
WWW.PAKNATIONALISTS.COM
ISLAMABAD, Pakistan—The Pakistan government is all set to demand handing over of at least two prime accused of Samjhota Express train terror attack, well placed official sources revealed to The Daily Mail in Islamabad.
The sources said that Pakistan has decided to launch a formal demand to New Delhi for handing over of prime accused Swami Aseemanad and Lieutenant Colonel Srikanth Purohit.
The sources say that since Swami has confessed his crime and Colonel Purohit was proven guilty by the slain Joint Commissioner of Mumbai's Police's Anti Terrorism Squad Hemant Karkare, there appears to be no reason for Pakistan not to seek the custody of the two terrorists for further interrogation.
"They are proven guilty of killing around 70 Pakistani nationals. One of them has been proven guilty through his own confessional statement and the other was convicted by India's own official investigations, conducted by India's ATS team, therefore I don't think that India should have any objection in handing over the killers of Pakistanis to Pakistani officials", a Pakistani official said.
On the Pakistani probe into Mumbai attacks, the official said none of the accused by India has been proven guilty in a Pakistani court due to lack of evidence.  Ajmal Kassab is the only person convicted in the attack by an Indian court. But he denies involvement and says his confession was taken under duress.
The case of the Indian terrorists involved in killing Pakistanis is different, the official explained.
It is important to recall that the attack on 60 Pakistanis, including women, children and elderly, occurred much before the Mumbai attacks. Indian terrorism in this case is premeditated.
Published by dailymailnews.com
© 2007-2010. All rights reserved. PakNationalists.com
Verbatim copying and distribution of this entire article is permitted in any medium
without royalty provided this notice is preserved.