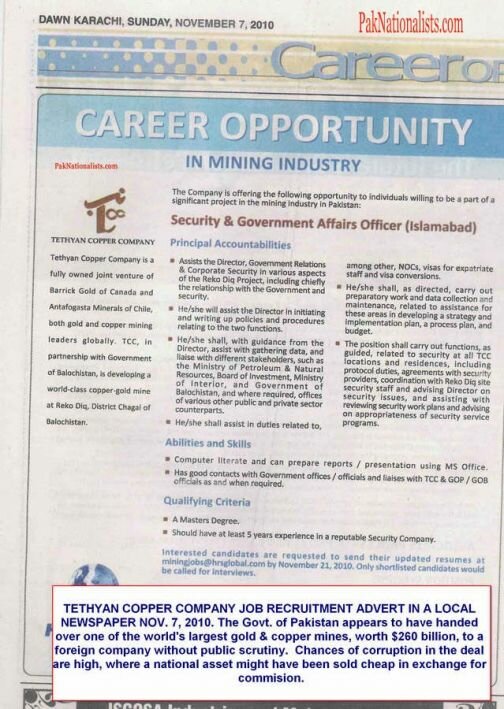 Print This Post

 Email This Post
 If So, For How Much And Whose Palms Were Greased?
Most Pakistanis missed a newspaper advertisement over the weekend that indicates that Pakistan's elected rulers have no qualms conducting deals away from public scrutiny worth billions—even when there are public complaints about it.
AHMED QURAISHI and BILAL KHAN UMERZAI | Monday | 8 November 2010
WWW.PAKNATIONALISTS.COM
ISLAMABAD, Pakistan—No one noticed when an international mining conglomerate placed a large advert in a Pakistani newspaper over the weekend seeking to recruit a slick operative to help in dealing with the federal Pakistani government for 'a major project in the mining industry in Pakistan.'
The advertisement was placed by Tethyan Copper Company in Dawn newspaper yesterday, Sunday, Nov. 7. In explaining the new recruitment, the advert said, "[Tethyan], in partnership with Government of Balochistan, is developing a world-class copper-gold mine in Reko Diq, District Chagal of Balochistan."
The ad sought to invite applicants for the position of Security & Government Affairs Officer based in Islamabad. As the title suggests, the successful candidate is expected to ensure security on the ground in Balochistan, and create and peddle influence to ensure no government department blocks company interests.
It makes sense the large advertisement did not appear in the other large newspaper of the country, The News International, which probably angered the foreign mining company five days ago when it ran an investigative story exposing a possible underhand deal to sell off the national asset in exchange for greasing the palms of a few greedy Pakistani politicians and bureaucrats.
The advertisement signifies one of two things: 
Either the federal government and the provincial government of Balochistan have renewed Tethyan's contract;

Or Tethyan is now part of a new deal involving fresh entrants
In either case, the new recruitment indicates that Pakistan's elected government is going ahead with plans to sell off the country's wealth for peanuts or that it has already done so.  The problem is that this is being done without public scrutiny or debate, possibly involving commissions or bribes to ensure the companies get the most out of Pakistani assets with very little going to Pakistani government coffers.
If properly utilized, Reko Diq mines and other natural assets, including rare earths, can easily pull Pakistan out of debt and end foreign aid dependence. But this appears impossible under the country's failed political system and rusting administrative rules requiring an overhaul.
Mining license for Reko Diq was first sold to foreign companies around 2006 under then President Musharraf and Prime Minister Shaukat Aziz. Reports suggested bribes and commissions ensured that Government of Pakistan get very little out of the deal while foreign companies pocket most of the discovered wealth.
There is not much credible public information available on the details of the license granted by the Musharraf-Aziz government. Online data bank Wikipedia.org is not a reliable source of information but this paragraph is posted on the site, referring to the 2006 deal:
"One of the world's largest copper deposits (and its matrix-associated residual gold) have been found at Reko Diq in the Chagai District of Baluchistan. Reko Diq is a giant mining project in Chaghi. The main license (EL5) is held jointly by the Government of Baluchistan (25%), Antofagasta Minerals (37.5%) and Barrick Gold (37.5%). The deposits at Reko Diq are hoped to be even bigger than those of Sarcheshmeh in Iran and Escondida in Chile (presently, the second and the third largest proven deposits of copper in the world). BHP Billiton, the world's largest copper mining company, began the project in cooperation with the Australian firm Tethyan, entering into a joint venture with the Balochistan government. The potential annual copper production has been estimated to be 900,000 to 2.2 million tons."
Even if Wikipedia is sometimes unreliable, the above information checks out. Barrick Gold has confirmed it partially on its website.
All of this means that, circa 2006, the Musharraf-Aziz government sold the most lucrative natural asset of Pakistan cheap, way cheap than anything expected anywhere else in the world. The excuse was that Pakistani government didn't have the skills to exploit this natural resource and so we might as well get something out of it than nothing.
A Pakistani citizen who did not reveal his name posted on the Internet explaining in simple terms what the Musharraf-Aziz government had done. He titled his post, 'Congratulations—Pakistan is being sold out – Thank you Shaukat Aziz!'
Out of 100% of the mining project:
37.5% share has been given to

Antofagasta Minerals

37.5% share has been given to

Barrick Gold

Only a mere 25% share has been given to the provincial Government of Balochistan
But that was during the Musharraf 'dictatorship', as detractors refer to that era. The irony is that something very similar or possibly worse is happening under the democratic government of President Asif Zardari and Prime Minister Yousaf Raza Gilani. The Zardari-Gilani government refuses to open the bidding process for Reko Diq mine to public scrutiny.
Five days after the front-page The News story, the federal Pakistani government is yet to utter a single word. There has not even been a denial of corruption allegations or a reassurance that Pakistani interest will be protected.
But what could prove a game spoiler for the little scheme hatched by the Pakistani government and its foreign partners is the judiciary. Following The News story, a Pakistani citizen has petitioned the Supreme Court of Pakistan to scrutinize the Reko Diq arrangements.
Reach Ahmed Quraishi at and Bilal Khan Umerzai at
© 2007-2010. All rights reserved. PakNationalists.com
Verbatim copying and distribution of this entire article is permitted in any medium
without royalty provided this notice is preserved.