Print This Post

 Email This Post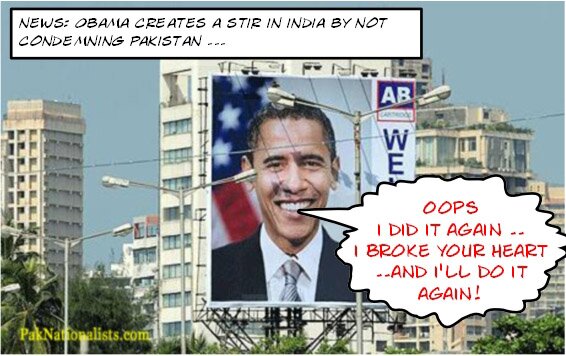 Typical of its small mindset that contradicts its claims to superpower status, India made Obama's first day of the visit about Pakistan instead of it being about India. And it flatly lost.
SPECIAL REPORT | Saturday | 6 November 2010
WWW.PAKNATIONALISTS.COM
MUMBAI, India—As expected, India television channels had lined up commentators and correspondents for US President Barrack Obama's speech at the Taj Mahal Hotel in Mumbai, the scene of a terror attack in 2008.
Typical of the small-minded mindset of the superpower wannabe, Indian pundits were hoping against hope that Obama would 'rip off Pakistan,' as one retired Indian ambassador opined on one of the local channels.
For Pakistani observers, watching Indian news beams minutes before Obama's speech, it was strange to see the Indians working themselves up over the expected Pakistan-bashing. You could almost see them rubbing their hands in delightful anticipation. "They could have shown some maturity by focusing on bilateral US-India ties if they were really treating themselves as a superpower," commented Ahmed Quraishi, a Pakistani commentator sitting with a group of likeminded analysts at PakNationalists.com's headquarters in Islamabad.
"By worrying too much about Pakistan, the Indians once again have shown their petty mindset that belies their claims of being a superpower focused only on the big picture," Quraishi said.
Mr. Obama waxed eloquent about his country 'standing together' with India against terrorism. He went out of his way to play up the symbolism, meeting families of Indians killed during the attack and signing the visitors' book at the hotel.
But Obama steered clear of naming Pakistan, which India blames for the attacks. Pakistan denies the charges and insists there is no evidence linking Pakistan or its government to the attacks. Pakistani analysts say the attack could be a reaction by unknown Kashmiri groups resisting India's brutal occupation of Kashmir. India tried to implicate a major pro-Kashmir group based in Pakistan in the attack to make it difficult for Islamabad to provide moral and diplomatic support to the indigenous freedom movement in Kashmir.
It was hilarious to watch Indian TV commentators immediately after Obama's speech. They ignored several significant lines that Obama uttered and focused on what was missing: Pakistan.
Indian TV commentators were up in arms. Not to be outdone, they were joined by Indian politicians. "It was the first address by the US President at a place (Taj Hotel) which saw the biggest terror attack on India. It was a complete disappointment. He had words which were not backed with action and intent," said BJP spokesperson Rajiv Pratap Rudy.
Other commentators couldn't believe that Obama would miss this rare opportunity to bash Pakistan when that is what the US media does day and night.
Unwittingly, the Indians made Pakistan the net winner on Obama's first day in India.
© 2007-2010. All rights reserved. PakNationalists.com
Verbatim copying and distribution of this entire article is permitted in any medium
without royalty provided this notice is preserved.