Print This Post

 Email This Post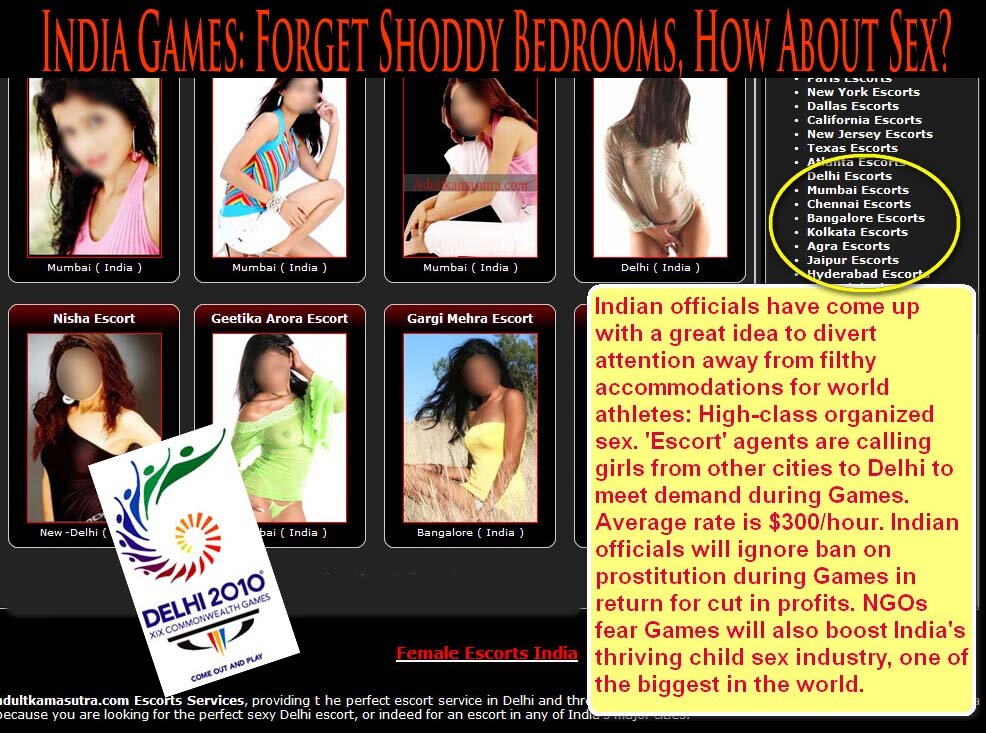 Not at all. And the best part is that this was the first international sporting event ever where the host government encouraged sex among visiting players as an official policy.
SPECIAL REPORT | Monday, 18 October 2010.
WWW.PAKNATIONALISTS.COM
NEW DELHI, India—When the report titled, Forget Shoddy Bedrooms, How About Sex? first came out, a lot of people said that's too much, hearsay, fake, impossible, etc. 
But then the Indian media confirmed this later.
What a lot of people didn't know is that prostitution during Commonwealth Games Delhi 2010 was a serious business. If a host of other credible news outlets were incorrect, how about BBC, which carried this story, Prostitution Fears Over Commonwealth Games?
And what about a sitting member of Indian parliament and former sports minister Mani Shankar Aiyar who publicly accused the Indian government of using the Games for prostitution and encouraging Indian 'escort' companies to bring girls from Indian cities as well as Russia and other Eastern European countries for the event? [See http://timesofindia.indiatimes.com/india/Aiyar-blames-govt-for-encouraging-prostitution-for-Games/articleshow/6389037.cms ]
Another damning report: 'Girls Lured To Games Work Sold To Brothels' . In this report, Australian journalist Amanda Hodges wrote the following: 
"CHILD-SEX trafficking has become the latest scourge of the Commonwealth Games. There are reports of an alarming rise in the number of under-aged girls being lured to Delhi for work, only to be sold into prostitution."
And there were other credible reports:
While prostitution happens everywhere, this organized State-sponsored sex-for-money has not been part of any international sporting event in recent memory.
WHY INDIA DID IT?
More important than prostitution is the question: Why did the Indian government ignore its own laws and contact 'escort' services and encourage pimps to 'import' girls from other Indian cities and even from outside India for the Games?
The answer is interesting. According to a British journalist reporting for the Daily Mail, Indian officials were assigned to come up with ideas to divert the attention of foreign players from the filthy conditions inside the Games Village.
The brainstorming among Indian officials resulted in many ideas. One of them was to allocate the better residential suites to athletes from Australia, UK, New Zealand and Canada. The dirty ones went to players from African countries and, of course, to the Pakistani delegation.
The best idea anyone came up with was to keep foreign delegates staying at the village busy in sex, or 'glamorous entertainment' as the Indian officials called it. A decision was made not to make this public in order to avoid the sneering remarks of critics such as former sports minister Mr. Aiyar, and also so as not to attract the attention of the Commonwealth Games Federation. The Federation might have objected at the Indian government offering sexual services as a cover-up for its inability to host a trouble-free sporting event.
There is also a conspiracy theory making the rounds on blogs. It tries to explain the reason behind New Delhi sponsoring sex during the Games: To sap the energies of competition and ensure that Indian players come out with the most medals. 
If true, then the Indians are certainly smarter than the Aussies and the New Zealanders give them credit for. 
© 2007-2010. All rights reserved. PakNationalists.com
Verbatim copying and distribution of this entire article is permitted in any medium
without royalty provided this notice is preserved.