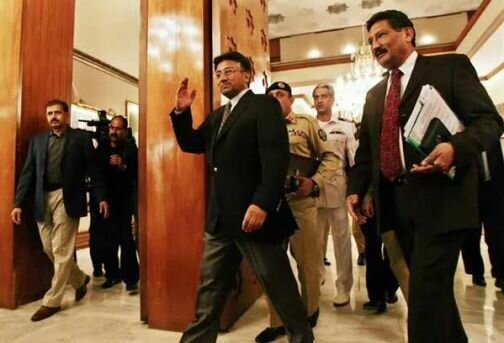 Print This Post

 Email This Post
Mr. Musharraf allowed CIA and FBI to operate freely in Pakistan

He ignored his Foregin Secretary Riaz Khokhar who wrote to him advising that free American movements in Pakistan be controlled

Former Chief of General Staff Maj. Gen. Shahid Aziz says Mr. Musharraf handed over Pakistani bases to US without informing military leadership

Former ISI chief Lt. Gen. Ehsanul Haq protested to CIA that FBI was approaching Pakistani citizens on Pakistani soil; CIA said it had no idea FBI was active in Pakistan
By HAMID MIR
Monday, 27 September 2010.
The News International
WWW.PAKNATIONALISTS.COM
ISLAMABAD, Pakistan—Former president General (retd) Pervez Musharraf called the mother of Dr. Aafia Siddiqui three times recently to clarify his position but she never spoke to him and finally Musharraf sent his old comrade Rashid Qureshi to meet her in Karachi.
Qureshi tried to prove that Musharraf was not directly responsible for the disappearance of Aafia in 2003 but failed to convince the family of Aafia and even exchanged hot arguments with the sister of Aafia and other people present there.
There is a general impression in Pakistan that Pervez Musharraf actually handed over Dr Aafia to US authorities but many people in the powerful Pakistani establishment claim that the ISI never arrested her in 2003 from Karachi and probably it was done through an independent and secret FBI operation with the help of some local police officials.
The FBI arrested her and then sent her to Bagram Jail in Afghanistan. The role of Pervez Musharraf in Aafia Siddiqui case is still a mystery because he was the one who allowed the FBI and other US agencies to operate independently in Pakistan. He even admitted in his book "In The Line of Fire" that he handed over 369 people to the US and earned millions of dollars from the CIA but a former ISI official who worked with Musharraf very closely denied the claim of former military dictator made in his book. This ex-official said, "ISI never handed over a single Pakistani national to the US and never received a single dollar from the US as head money."
There are still many unanswered questions relating to Dr Aafia's case. Who arrested Dr Aafia Siddiqui in 2003 from Karachi? Where was she from March 30, 2003 to July 17, 2008 until the Americans claimed her arrest in Afghanistan? If she was in the custody of some intelligence agency, how she reached the home of her uncle in Islamabad during this time and spent two days with him? Who released Dr Aafia Siddiqui in January 2008 and who forced her to infiltrate into al-Qaeda network of Pakistan? Where is her third child Suleman? All these questions were not answered in the verdict of a US federal court, which sentenced her to 86 years in prison.
The US authorities declared Aafia among the seven most-wanted al-Qaeda fugitives in 2004. The US Army claimed to have arrested her in Ghazni province of Afghanistan in July 2007 and then the FBI shifted her to New York. Prosecutors said she had picked up a rifle in a Ghazni prison and opened fire on the US servicemen. She missed and in a struggle was shot at by one of the US soldiers. Defence lawyers argued there was no physical evidence, such as fingerprints or gunpowder traces, to show Dr Aafia even grabbed the rifle. The members of her family and some human rights groups said Dr Aafia was imprisoned by the US forces after disappearing along with her three children in Pakistan in 2003 and that she is now mentally disturbed.
Although she was not charged with terrorism, prosecutors described her as a would-be terrorist who had also plotted to bomb New York. The court failed to shed light on the mystery of what happened to the mother of three from 2003 to 2008.
The sister of Aafia, Dr Fauzia Saddiqui, claimed that she provided evidence to the Government of Pakistan and to the defence lawyers about the alleged role of the Musharraf regime in the abduction of Aafia but the US court refused to listen and clearly said that they were only interested in what happened in Ghazni. Fauzia told The News that Aafia disappeared on March 30, 2003 and local newspapers of Karachi reported on April 1 that the authorities had arrested a woman under the charges of terrorism. She said that Faisal Saleh Hayat was the interior minister at that time and he admitted the arrest of Dr Aafia in front of many journalists and he even told her that Aafia was arrested because she was very dangerous. The US sources claim that Aafia pressed her first husband Amjad in 2002 to go to Afghanistan for Jihad but he refused. After that, she got a divorce from him and married an al-Qaeda operative Ammar al-Baluchi in February 2003. When Khalid Shiekh Muhammad was arrested from Rawalpindi on March 1, 2003, Ammar disappeared. The FBI issued an arrest warrant of Aafia on March 25 and she was arrested from Karachi with her three children on March 30. Dr Fauzia claims that an official from a civilian security agency contacted her and promised to give her the details about Aafia but this official, with the name of Shahid Qureshi, was killed in a mysterious road accident.
Mother of Aafia, Ismat Siddiqui, confirmed that Rashid Qureshi called her sometime ago and said that Pervez Musharraf wanted to call her. Ismat Siddiqui said that Musharraf called her on the landline number but she was not available. After a few days, Rashid Qureshi informed her that he was coming to see her with media but she refused to meet him in the presence of the media. She agreed to meet him without the media. Rashid Qureshi came and complained why she was leveling allegations against Pervez Musharraf for the abduction of Aafia. Fauzia informed Qureshi that Musharraf admitted in his book that he handed over many people to Americans. On this, Qureshi said, "May be, we were not aware that Aafia was a Pakistani. May be somebody handed over her as an American" claimed Ismat Siddiqui. She categorically denied some media reports about the nationality of Aafia and said, "My daughter is a Pakistani". Fauzia said that Rashid Qureshi was arrogant on one stage when he said, "You cannot damage Musharraf by coming on roads," and then her husband Nasir and some other people exchanged hot words with him.
Fauzia Siddiqui was recently informed by a top Pakistani government official that the third missing kid of Aafia, Suleman, was alive. Fauzia said that people who claimed that Suleman was alive advised them that they should not speak much or Suleman might not come back. According to the former husband of Aafia, she was not in the custody of Americans from 2003 to 2008. Amjad Khan claimed that she was hiding in Karachi and he himself saw her once in Karachi in 2005. Another uncle of Aafia, Shamsur Rehman Faruqui claimed that Aafia met her in January 2008 in Islamabad. Aafia told her uncle that she had been in the custody of both Pakistani and American agencies but she was not aware about the location. She claimed that she was released with a mission to infiltrate into the al-Qaeda network of Pakistan but she wanted to escape to Afghanistan. Faruqui claimed that Aafia spent two days with her in Islamabad and disappeared on the third day. Pakistani authorities did not confirm the presence of Aafia in Islamabad in January 2008. Her sister Fauzia is not ready to believe her uncle who is the real brother of her mother.
According to reliable sources, the younger brother of Ammar al-Baluchi, Shabbir, was arrested in 2005 from Karachi. The ISI investigated about the whereabouts of Aafia from him but he was not aware. He was not involved in any terrorist activity so he was later released with a commitment that he would find out Aafia but he also disappeared. Former Chief of General Staff Lt Gen (retd) Shahid Aziz claimed that Musharraf gave bases to Americans in Pakistan without informing corps commanders and he also allowed Americans to operate independently. Former Secretary Foreign Affairs Riaz Khokhar said that he once wrote to Musharraf that they must have some checks on the free movement of Americans in Pakistan but Musharraf never listened to him.
Sources in security establishment claimed that Aafia Siddiqui might have been arrested independently by the Americans from Karachi and then she was transferred to some secret location because some FBI officials contacted the family of Amjad Khan without informing the ISI. Then ISI boss Lt Gen (retd) Ehsanul Haq complained to the CIA in 2003 and protested why one FBI official was contacting the Pakistani nationals without the knowledge of Pakistani authorities but the CIA claimed that they were also not aware about the FBI operations in Pakistan.
This report was originally published by The News International.
© 2007-2010. All rights reserved. PakNationalists.com
Verbatim copying and distribution of this entire article is permitted in any medium
without royalty provided this notice is preserved.