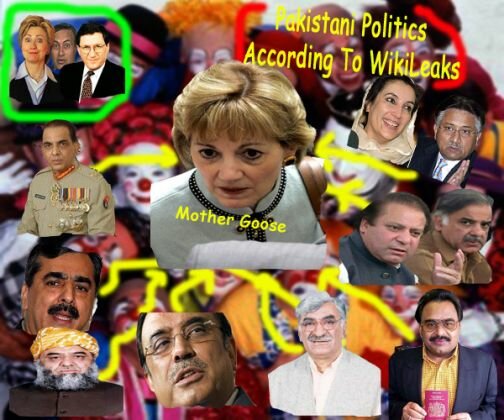 Print This Post

 Email This Post
Unfortunately, both politicians and military commanders flouted Pakistani laws and conducted direct diplomacy with western diplomats bypassing the Pakistan Foreign Office and encouraging foreign meddling in internal Pakistani matters.
SPECIAL REPORT | Saturday | 4 December 2010
WWW.PAKNATIONALISTS.COM
ISLAMABAD, Pakistan—We understand that US embassy cables from Pakistan represent the viewpoints of diplomats and could be right or wrong, there is little question that Pakistan's senior officials, political and military, discussed internal matters with representatives of foreign governments and allowed foreign diplomats to meddle in Pakistani affairs in a way that has upset and humiliated most Pakistanis.
The cables released so far have highlighted mistrust among politicians, the gap between President and Pakistani military, the growing clout of American embassy in domestic politics and the extent to which Pakistani officials have been appeasing US diplomats on an issue as sensitive as the nation's nuclear program.
According to media reports, Prime Minister Gilani and Chairman Joint Chiefs of Staff Gen. Khalid Shamim Wyne discussed the implications of the disclosures on Thursday.
Government's Defense Cabinet Committee, which is a sort of a mini national security council, has also discussed how the revelations in the Wikileaks cables would impact Pakistan's domestic politics, relations between top government officials, and ties with key foreign governments.
One sign of moves to reduce trust deficit between key officials was a report about a meeting between President Zardari and Army Chief of Staff Gen. Asfhaque Parvez Kayani on Friday, although both Presidency and ISPR refused to confirm it. Both officials were portrayed in US diplomatic cables as trading accusations through US diplomats. Both have apparently been caught complaining to US officials against one another.
While President Zardari complained to US Vice President Joe Biden and then-British prime minister Gordon Brown that the army chief could 'take him out', Gen. Kayani, ahead of the March 2009 long march, disclosed to then-American ambassador Anne W. Patterson that he contemplated seeking the president's resignation and installing ANP leader Asfandyar Wali in his place.
At another place, President Zardari had told then-British foreign secretary David Miliband that Pakistan's military was keeping him in the dark about important issues.
Gen. Kayani and ISI chief Gen. Shuja Pasha were found in one of the cables telling the American envoy that there were concerns in the military about corruption and bad governance by the president. Dawn newspaper reported the Gen. Kayani and Gen. Pasha accused President Zardari of holding backchannel talks with India and unilaterally deciding to start a new war in Waziristan.
Dawn newspaper wrote, 'It is definitely worrisome that military and civilian leaders criticised each other in meetings with foreign diplomats, but more serious was the doubt expressed in another cable that both sides (the presidency and the military commanders) did not directly discuss their mistrust.'
By Thursday afternoon there was clearly a disquiet in the Foreign Office corridors and whispers could be heard that the embarrassed leaders deserved it because they repeatedly threw to the wind their cautions against giving too much leeway to foreign diplomats, providing critical information and casually sharing their views with them.
"The leaders, both civilian and military, made a mockery of themselves by engaging extensively with the American, British and other western diplomats. They exploited proclivity of our leaders to meet them," a senior diplomat said.
The standing advice of the Foreign Office for all functionaries is that their interactions with foreign diplomats should be routed through it (the FO), which should also be consulted on the possible topics for discussions.
A source disclosed that the Foreign Office was being bypassed to the extent that no Pakistani officials meeting foreign diplomats ever bothered, even after the meetings, to tell the concerned department what had been discussed. "Resultantly the foreign diplomats and visiting dignitaries came to the Foreign Office only as a ritual, while substantive issues are discussed elsewhere."
According to Dawn, US diplomats in Islamabad have privately defended their involvement in internal Pakistani issues saying it was routine diplomatic business. Ironically, these American diplomats believe their contacts with Pakistani politicians and officials are 'open and transparent.'
Extracted from longer reports published by Dawn, The News and several other Pakistani newspapers and edited by PakNationalists.com
© 2007-2010. All rights reserved. PakNationalists.com
Verbatim copying and distribution of this entire article is permitted in any medium
without royalty provided this notice is preserved.