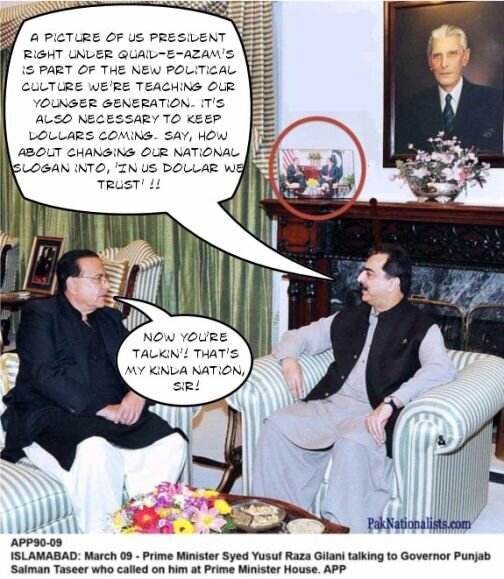 Print This Post

 Email This Post
What part of 'Kabul-Delhi-but-not-Islamabad' that Pakistani officials don't understand?
Y

o

u can visit India every quarter, Mr. Obama, but coming next door without dropping by is an insult. Period.  

$64 billion in Pakistani losses, 5000 dead and a generation of Pakistani children orphaned by America's war

Pakistani officials visiting Washington without talking about this do not represent the views of the Pakistani nation
By AHMED QURAISHI | Monday | 1 November 2010
WWW.PAKNATIONALISTS.COM
ISLAMABAD, Pakistan—Until recently, Pakistan's Prime Minister Yousaf Raza Gilani, who is considered a weakling in his own party, impressed his colleagues and opponents by showing them a framed picture of himself sitting with US President Barack Obama in the White House.
Insecure Pakistani politicians believe a meeting with a US president means enough backing to take on domestic opponents. Most visitors have seen the picture prominently placed in one corner of the Pakistani prime minister's office. And none of them have missed the indirect message that Mr. Gilani wants his guests to leave with: that he's a strong prime minister with powerful international friends.
But things changed after Oct. 20. That's the day Mr. Obama walked in on a meeting between his top advisers and a whole bunch of Pakistani federal ministers attending a Pak-US Strategic Dialogue.
Pakistani ministers came out triumphant from the meeting. Someone quipped, 'They went in as Pakistani ministers and came out as roving ambassadors for the Obama administration.'
They were all excited because the ministers now had their own version of a framed photo with the US president. Take this, premier Gilani!
All of a sudden, all of them began waxing eloquent about how benevolent the United States is when in reality they returned empty handed, except for a lot of sound bites and flashlights.
Part of this effusive behavior was how the Pakistani ministers defended Mr. Obama's decision not to visit Pakistan when he'll be landing in both Kabul and New Delhi this week.
The nearly-drooling ministers said Mr. Obama was kind enough to walk into their meeting and personally apologize for not visiting Pakistan. They said hr 'promised' to visit Pakistan sometime in 2011.
And that was it. That's how our ministers glossed over what probably is one of the most telling signs of the US attitude and behavior toward Pakistan.
Washington has done nothing to benefit Islamabad in the nine-year alliance since 9/11. The only reason US officials loudly remind Pakistanis of the 'aid' given to Pakistan during this period is because no Pakistani official, civilian or military, had the guts so far to tell the Americans enough of their play on words.
Ten billion US dollars or so is peanuts compared to more than $64 BILLION in direct and indirect losses to Pakistan because of its decision to support the US invasion and occupation of Afghanistan. This is nothing to say of the 5,000 or so Pakistanis dead in America's war that has given us nothing but a long line of Pakistani children orphaned by this war.
Often Pakistan shot itself in the foot to please its American ally. Like it did last week by signing on a revised trade agreement with Afghanistan. US diplomats were part of the Afghan delegation that negotiated the deal with Pakistan. Thanks to this 'favor' our government has done the Americans; around 80,000 Pakistani jobs will be lost over the near future to please Washington and its puppet government in Kabul.
After all this, India gets Obama's first visit, along with Kabul, while Pakistan gets the lollypop of a 'promise' to visit Pakistan in 2011.
Let's not mince words here and enough of the hypocrisy. Pakistani officials visiting Washington for the strategic dialogue who remained quiet on this point do not represent the views of the Pakistani nation. The least the US president could have done is to visit Pakistan first, Washington's supposed major non-NATO ally. It is preposterous that he isn't.
This is the latest in a long list of insults that Pakistan and its weak leaderships have been swallowing for nine years. Where to begin? Our ally decidedly created an anti-Pakistan puppet government in Kabul and then oversaw the emergence of anti-Pakistan terror groups on Afghan soil, like BLA. For years, CIA drones refused to target the so-called Pakistani Taliban and did so only when Pakistani military confronted CIA with evidence of a nexus between CIA agents in Afghanistan and the anti-Pakistan terrorist group. The icing on the cake was the US-India nuclear pact.
We wanted Mr. Obama to come here and meet the families of young Pakistani children who lost their fathers and mothers in hundreds of terrorist acts. Meet the families of our people in the tribal belt, those patriotic Pakistanis who lost their loved ones, their homes, their lives, because of CIA missiles carrying Pakistani ruling elite's seal of approval. Not to mention the children of our soldiers who died defending the motherland, children who don't have fathers to look after them in a country with weak social support systems.
After all of that, the US president and his staff and his cheerleaders in Islamabad have the gall to tell us we shouldn't take his snub personally.
No one in Pakistan is bothered about him visiting India for whatever reasons. He can make quarterly visits for all we care. It is the deliberate snub to Pakistan that is not sitting well with most Pakistanis.
© 2007-2010. All rights reserved. PakNationalists.com
Verbatim copying and distribution of this entire article is permitted in any medium
without royalty provided this notice is preserved.