Print This Post

 Email This Post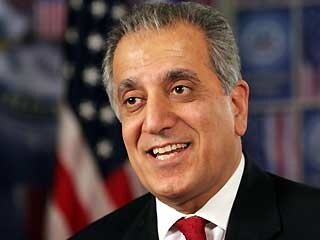 Khalilzad, who is no friend of Pakistan, is a good friend of our President Asif Zardari.  Recently, Mr. Khalilzad visited Mr. Zardari in Islamabad.
BY ANJUM NIAZ | Thursday, 23 October 2010 | The News International
WWW.PAKNATIONALISTS.COM
WASHINGTON, DC—Zalmay Khalilzad (ZK) and Asif Zardari (AZ) are good friends. When Asif Zardrai lived in Manhattan and when Khalilzad lived in Manhattan as the US ambassador to the UN they often met up. A Florida-based American who followed Benazir Bhutto around in the summer of 2007 told me that none in the then Bush administration bothered about BB. "The only official who entertained BB and AZ was ZK. The rest (Washington's power horses) had little time for the couple." If we're to believe the American (he doesn't want to be named) then ZK's role in paving the way for BB back to Pakistan via the NRO is crystal clear.
The Afghan-American is no friend of ours. Never was.
And he has proven me right once again by writing a diabolical column in the New York Times Op-ed of October 20. 'Get tough on Pakistan' is the screaming headline. He's asking Obama to act and if need be bomb Pakistan to flush out the terrorists. Pakistan will not "disintegrate" he says allaying the fear of those who think that putting pressure on the country may be lethal. "Pakistan's institutions, particularly the country's security organs, are sufficiently strong to preclude such an outcome."
Aha! Notice the timing of ZK's outburst. It's the day General Kayani starts talks with the Obama administration in America. He's meant to talk tough with his interlocutors and hand them a wish list (will we ever get over asking for dough from the Yankees?).
Wait, there's more. Let's connect the dots. ZK has recently returned to the US from Islamabad after meeting AZ. He's brought back an important message for Obama which forms the gist of his above mentioned column: strengthen the hands of the civilian rulers but get tough with the military; give the government (read AZ) money and not only to the military so that AZ can nourish "democratic institutions". And finally do something about India and Pakistan getting at each other's throats. All these steps can help break the army's stranglehold on Pakistan. He adds, "Based on my recent discussions with Pakistani officials," writes ZK, "including President Asif Ali Zardari, I believe the civilian leadership would welcome such a move."
Get the drift? To a lay person the message from Islamabad for Obama can be parsed something like this: the "democratic" forces in Pakistan want to move on and live in peace and serve democracy but the military is not giving them a breather. Therefore, only Obama can play the part of a class monitor who with a wag of his finger or even a drone or two can tell the military where it gets off.
Enter the third Z. On the same day when ZK's op-ed appeared in the NYT, back in Pakistan, Zafar Hilaly or ZH wrote a telling column in this paper. He lifted extracts from Bob Woodward's book 'Obama's wars' to drive his points home. Here are some of the stunning not-to-be-missed eye-openers that Woodward mentions and ZH expands upon: When Zardari accused the US of sponsoring the Tehrik-e-Taliban Pakistan (TTP), an exasperated Zalmay Khalilzad brushed off AZ's suspicions; Obama's team's scarcely concealed animus for Pakistan: they mock at Kayani's preoccupation with India; they care a hoot about Kashmir; they are furious that Kayani is not doing their bidding; they call him a "liar" and are probably mortified that they have to deal with him.
Continuing his highballs from Woodward, ZH writes: "The attempts by our ambassador in Washington to help the Obama team understand the nature of their Pakistani interlocutors by suggesting that they deal with us like they would with an oriental carpet seller, or a man trying to 'take a woman to bed', was shocking. It ill-behooves an ambassador to speak thus. But, then, what can one expect of the likes of those that Zardari has appointed to key posts."
Needed then are more retired ambassadors like ZH to unlatch facts that would otherwise remain locked.
This op-ed was published by The News International under a different title. The writer is a freelance journalist with over twenty years of experience national and international reporting. Reach her at
© 2007-2010. All rights reserved. PakNationalists.com
Verbatim copying and distribution of this entire article is permitted in any medium
without royalty provided this notice is preserved.