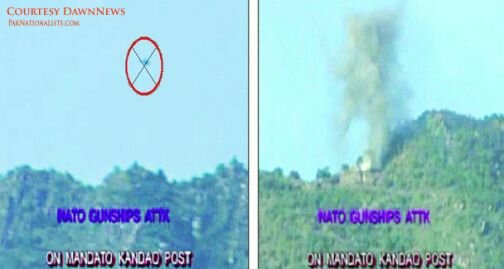 Print This Post

 Email This Post

By DAWNNEWS
Tuesday, 5 October 2010.
WWW.PAKNATIONALISTS.COM
PESHAWAR, Pakistan—A dramatic footage of the deadly attack on Mandato Kandao in Upper Kurram Agency last week leaves little doubt about the violation by Afghanistan-based foreign forces.
Contrary to NATO commanders' claim of firing in self-defense on September 30, the images shown on DawnNews TV of the smoldering security post tells a different story.
The video shows NATO (North Atlantic Treaty Organization) aircraft hovering over the security post before blowing it up. Three paramilitary soldiers were killed in the attack.
Official sources told DawnNews that the helicopters had carried out two attacks, first at about 5:25am and the second at 9:40am.
The video filmed from a distance shows the post being reduced to rubble. According to local people, the dead and injured had suffered severe burn injuries.
After the attack, tribesmen and soldiers are seen rescuing survivors and shifting the bodies.
Not only NATO helicopter gunships but two small aircraft also flew over Mandato Kandoa, the border point with Danda Pathan area of the Paktia province of Afghanistan.
Local tribesmen claim that ISAF and NATO have set up a base in Danda Pathan where military aircraft have been spotted.
This was the third such incursion as NATO helicopters had attacked the Matta Sangar area of Upper Kurram on September 27.
In that strike NATO claimed killing six insurgents and injuring eight others while local people contradicted the claim and said those killed were Muqbal tribesmen.
This report was published by DawnNews.
© 2007-2010. All rights reserved. PakNationalists.com
Verbatim copying and distribution of this entire article is permitted in any medium
without royalty provided this notice is preserved.