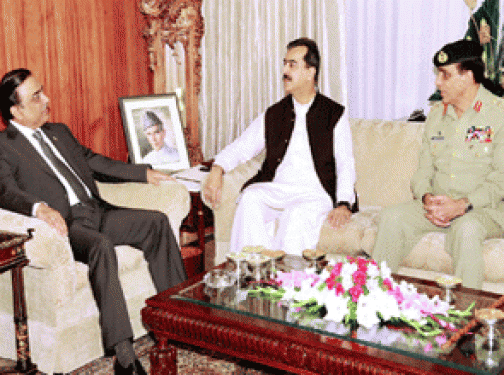 Print This Post

 Email This Post
The paranoid elected government of President Asif Zardari has been out battling shadows and ghosts, whipping up anti-military sentiment when the military never planned a coup of any sort against him. His problems are with the Supreme Court on legal grounds. To calm frayed nerves, it appears Gen. Kayani agreed to let Zardari and Gilani issue a statement on the three's commitment to 'defending' democracy. Pakistani military could also be bound by 'sovereign guarantees' given as back as 2007 stating that Pakistani military won't destabilize a government created through the US-sponsored NRO deal.
By AHMED QURAISHI
Tuesday, 28 September 2010.
WWW.PAKNATIONALISTS.COM
ISLAMABAD, Pakistan—Hardly. Better still, there wasn't a coup to start with.
Monday's well-timed meeting between the so-called 'troika' – the President, Prime Minister, and the Army chief – is being widely interpreted as having averted a possible collapse of the elected Zardari-Gilani government. There is no word from the military's media people on the meeting but the president's media office took the liberty of releasing a statement renewing the commitment of Gen. Kayani, and that of the President and Prime Minister, to defending democracy.
If there's anyone who created a frenzy about an extra-constitutional [read: military-engineered] change, it is the elected government when it opened indiscriminate fire at shadowy and unseen enemies, warning it will defend democracy, pleading its American friends to issue pro-democracy statements, prodding ministries and NGOs to place newspaper advertisements extolling the virtues of democracy, and unleashing a frontman like Abdul Qayum Jatoi to sentiment. By choosing Balochistan and Akbar Bugti's house as a venue for Mr. Jatoi's provocative lines, it was a clear message to the Pakistani military that, if toppled, the Zardari government will use Balochistan against the federation. It was naked blackmail. It came on top of other forms of blackmail – the waving of the so-called Sindh card, Zulfiqar Mirza's statement about breaking away from Pakistan after Benazir Bhutto's death, and coalition partner ANP's recent bold statement linking respect for the military to respect for the elected government.
This paranoia by the elected government worsened when the ruling politicians saw the military winning hearts and minds in interior Sindh and Balochistan, where people saw soldiers saving them when politicians in power diverted flood water to save their lands. Another thing that sent shivers down the spines in the PPPP government was to see the Pakistani military gaining ground once again in America's war on terror, forcing Washington to become dependent again on Pakistani military's goodwill.
So, did Gen. Kayani deliberately become part of the 'defend-democracy' meeting on Monday?
No doubt about that. He must have been told about the statement that would be issued after the meeting and he accepted it. Or President Zardari might have wanted to test the waters with the general on the post-meeting statement and Gen. Kayani simply said yes [what else could he do? Say no?]. Or maybe it was Gen. Kayani's initiative to suggest such a meeting in order to calm the frayed nerves of the government. It could be any one of the three scenarios, we don't know for sure. There are also rumors that either Mr. Gilani or Gen. Kayani brought up the question of expelling some figures who occupy key positions in the Zardari government. Again, no confirmation from any quarter about this, but it's important to recall that a similar understanding was reached between the troika last year after the Kerry-Lugar bill fiasco and it seems the government reneged later, benefiting from the military's distraction after a bold terror attack on the GHQ building in Rawalpindi.
All of these reports are important and cannot be ignored but they remain unconfirmed. What is confirmed, however, is that the military wasn't planning any coup.
Here is a key point that analysts forget when debating this point: whether it likes it or not, the Pakistani military is one of the main guarantors for the Mush-BB-US-UK deal of 2006-7 that created the piece of law called NRO and the incumbent coalition government in Islamabad. For the Pakistani military to remove this government would amount to staging a coup against the whole set of 'sovereign guarantees' that Gen. Musharraf left Pakistan and the military saddled with. Apparently these guarantees include a lot of secret clauses about US activities in Pakistan, in addition to committing the Pakistani military to avoid destabilizing this government. [Yes, despite US criticism about the corruption of the current Pakistani government, Washington won't ditch it so easily. Just ask the US ambassador in Islamabad how much busy time she spent earlier this year quietly convincing opposition politicians 'not to rock the boat'!].  
The day the Pakistani military turns against this government would be the day Pakistan would opt out of America's failed war effort in the region.
So, has a fourth coup been averted?
Hardly. Conditions for a military intervention in Pakistan continue to exist. After all, this nation can't spend the next nine decades of this century with this kind of a messy and porous political system. But for the time being, whatever problems the government faces are with the Supreme Court. And only a fool would advise the military to stage a coup and stop the politicians from doing such a wonderful job of proving they are not fit to rule now or in the future, without inducting new faces and, more importantly, a new mindset.
© 2007-2010. All rights reserved. PakNationalists.com
Verbatim copying and distribution of this entire article is permitted in any medium
without royalty provided this notice is preserved.