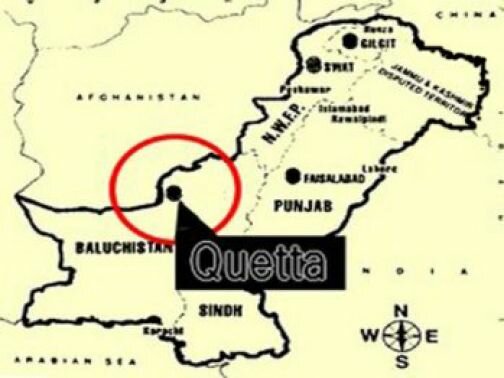 Print This Post

 Email This Post
Terror in Pakistan is not indigenous and is linked to Afghanistan; the attacks in Quetta, Lahore, Karachi executed by terrorists on Afghan border


There is a need to understand the regional dimensions of terror in Pakistan. There is also a need to permanently limit political and religious events to confined locations.
By AHMED QURAISHI
Friday, 3 September 2010.
My Lounge
WWW.PAKNATIONALISTS.COM
ISLAMABAD, Pakistan—A suicide attacker targeted the Al-Quds rally today in Quetta, the capital of Pakistan's Balochistan province. Sixty innocent Pakistanis are dead and the figure is changing every hour because the injured are in excess of 100.
It is highly irresponsible on the part of the organizers of the rally — and the government officials that gave it the green signal — to endanger the lives of Pakistani citizens only two days after twin attacks that targeted public events in two other major cities. In pure security terms, this is a serious lack of judgment on the part of the organizers. The Pakistani government should press criminal charges against the organizers and government officials who, in their callousness, put politics before the lives of our citizens at a time when we face foreign-backed terror. The relevant government officials who licensed the procession should be questioned about the sources of their assessment that it was safe to hold huge rallies in these times.
This Al-Quds Day rally was organized by a Pakistani Shia group that supports Iran's call for Al-Quds Day to be held on the last Friday of Ramadan. By no means is this a Shia religious event. A majority of Pakistanis support al-Quds Day, regardless of religious affiliations. I personally fully support Tehran's courageous stance on Al-Quds, the holy city under Israeli occupation. It's also important to remember that the Al-Quds Day is a political event launched by the government of Iran. It is not a religious event.
Inside Pakistan, the organizers of the rally should have put the safety and security of Pakistani citizens ahead of everything else. A smaller, symbolic public event could have been arranged instead of a large one. The crime of the organizers is especially compounded by the knowledge of what happened in Karachi and Lahore two days earlier.
Unfortunately, Saudi- and Iranian-backed proxy sectarian groups have endangered the lives of Pakistanis for years and put foreign interests before Pakistani national interests. The remnants of these groups must and should be banned.
But it is important to make the distinction between local sectarian groups and between the current wave of terror which is planned, financed, armed and directed from terror outposts linked to Afghanistan.
Pakistan's indigenous sectarian groups have been weakened over the years and their foreign support, from Saudi Arabia, Iran or elsewhere, has been considerably curtailed. What is happening is that their remnants are being reorganized by someone else on the Afghan border, arming them and financing them and providing them a new safe haven. This 'someone else' can be al-Qaeda, can be the so-called Pakistani Taliban or TTP, and can be any one of the long list of foreign spy agencies active in Afghanistan that have spent the past eight years cultivating contacts and influence within religious groups, and especially within Pakistan-based groups linked to Kashmir or to Afghan Taliban.
So there is a bigger possibility of the recent attacks being the work of the terror-export enterprise that hides in Afghanistan and has been targeting Pakistan since 2005. The first evidence of this is the fact that the attacks have been claimed by a terror group based on the Afghan border and not by any traditional sectarian Pakistani group.
Another evidence of this is the attack on a minority worship place of the Ahmedis earlier in the day in Mardan preceding the Quetta attack by a few hours. It is clear this is not a sectarian issue but an organized campaign by Pakistan's regional enemies. The existence of extremist religious elements in Pakistan makes it easy for anyone to find accomplices inside Pakistan.
And it's not just Pakistan. Iran has seen attacks on Shia mosques by elements claiming to be Sunnis. But there are no Sunni sectarian groups in Iran. The terrorists who have been attacking Iranian targets are based in US-controlled Afghanistan claiming to represent Sunnis. The attacks in Quetta today and in Karachi and Lahore on Wednesday share the same origin as the attacks in Iran: they are masterminded by terrorists who hide on the border with Afghanistan and have links to foreign intelligence agencies based there. We know that Indians have shown a lot of interest in these groups and established contacts with elements linked to them.
WHAT TO DO?
This is a sad occasion but a good opportunity to curtail and limit political and religious public gatherings in Pakistan. These are public nuisances and often turn violent and destabilize the country. The whole Pakistani 'violent rally culture' needs to be contained. The step taken by the provincial government of Balochistan – to ban religious rallies in the province – should be applied nationwide.
All political and religious parties should be told to hold their events in pre-designated places away from residential and commercial districts and none of these gatherings should be allowed to disturb public peace and order.
Patriotic Pakistanis, Shias and Sunnis, must step forward and show courage in telling our emotional religious figures that saving the lives of Pakistanis is more important, especially when none of these public events and processions have any religious sanction.
Pakistani religious figures that refuse to do this and hide behind weak religious pretexts must be charged with endangering the lives of Pakistani citizens. 
This column was published at , Ahmed Quraishi's blog reserved for informal commentary.
© 2007-2010. All rights reserved. PakNationalists.com
Verbatim copying and distribution of this entire article is permitted in any medium
without royalty provided this notice is preserved.