Print This Post

 Email This Post
A Canadian Sikh Leader Says The Sikh Nation Will Stand By Kashmiris, And Wants Freedom For Sikh Homeland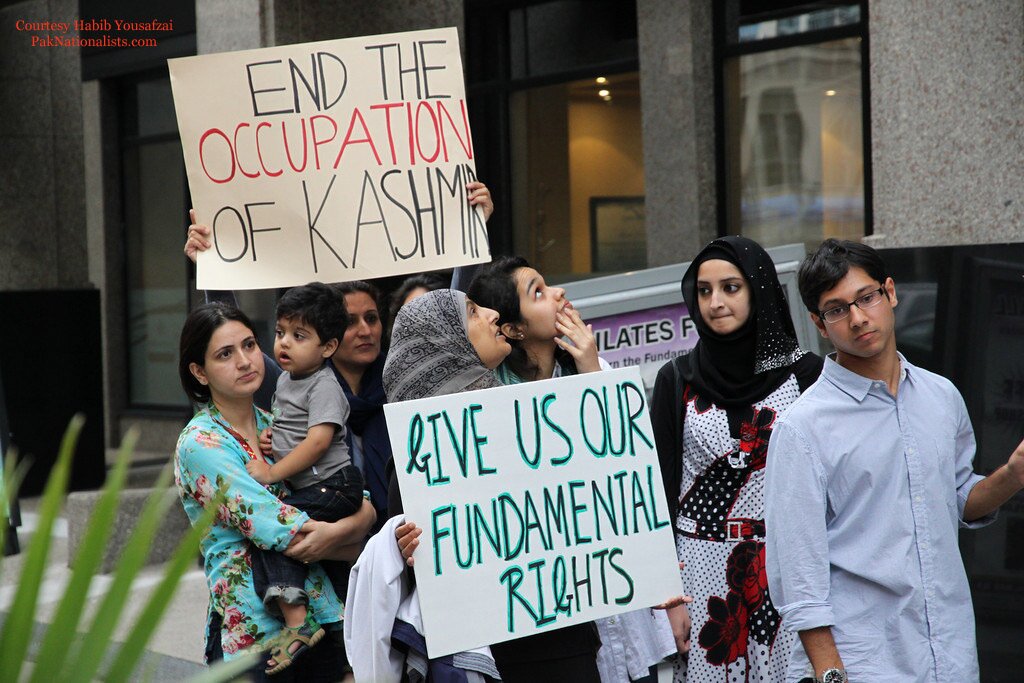 By HABIB YOUSAFZAI
Saturday, 21 August 2010.
WWW.PAKNATIONALISTS.COM
TORONTO, Canada—Worried Indian diplomats sneaked behind the curtains of the windows at the building of the Consulate General of India in this Canadian city as Kashmiris, Pakistanis, and Sikhs gathered across the street, drawing the attention of the Canadian media and public to an important idea whose time has come: an end to the Indian occupation of Kashmir.
World Kashmiri Diaspora Alliance held a peaceful rally in front of the Consulate General of India in Toronto to ask the world powers important questions that must be answered that must be answered:
"Should India get away with defiance of international agreements?"
and,
"Who has given India a license for the genocide of the Kashmiris and other minorities?"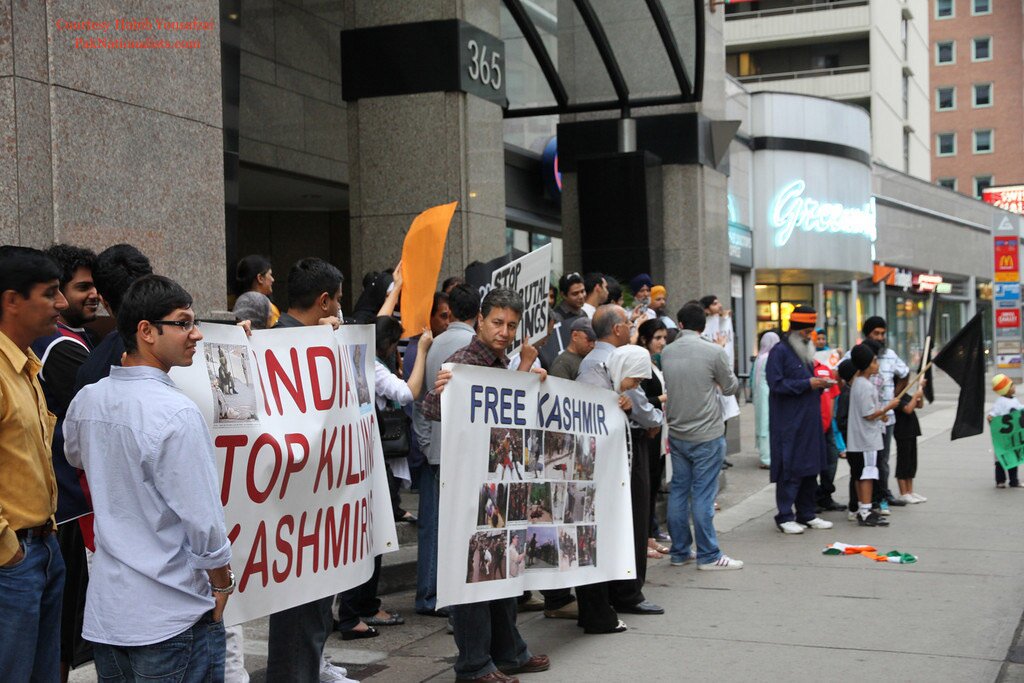 The demonstrators included children, women, and the elderly. They raised slogans of protest saying, "Kashmiris demand the right to life."
Protesters were carrying placards demanding "Indian Army: quit Kashmir"; "We demand self-determination, as agreed upon in 1948"; "India honor her pledges given at the UN"; "Stop killings & inhumane crimes in Kashmir"; "Stop state terrorism in Kashmir"; "Kashmiris demand peace & justice".
Since June, 2010, the Kashmir Valley has been burning. A renowned Kashmiri leader Farooq Siddiqui said:
"Our parents, siblings, grandparents, aunts, uncles, cousins are undergoing unwanted sufferings and uncertainties. Protests and demonstrations have been rocking Kashmir; strikes and curfews have brought the Kashmir's life to a standstill. We would like to draw the world attention on Indian armed personnel's presence which is more than 800,000 in the civilian population to intimidate the Kashmiris. It is horrifying to imagine more than 192,685 killings, 215,877 arrests, and 110,000 disappearances, 115,665 home demolitions, committed by Indian Forces, leaving 122,675 widows and 207,218 orphans in the last six decades. India has been committing crimes such as rapes, torture, atrocities, humiliation, dehumanization and gross human rights violations of the Kashmiris. Nobody has paid any attention to the agony of the Kashmiris for over 63 years. Despite all these atrocities, India still claims to be the world's largest democracy.  It is evident that India's treatment of the people of Jammu and Kashmir is vastly different than its other states. "
Canadians participated in the rally. Of special significance was the participation of activists from the United Front of Sikhs, a renowned Sikh organization based in Toronto, Canada.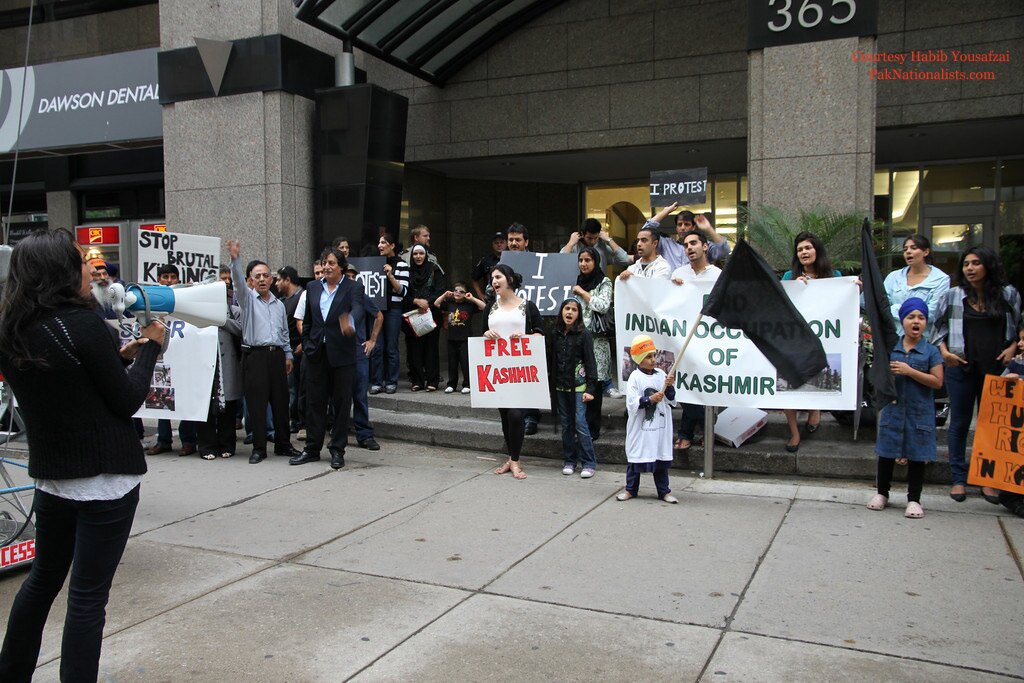 Sikh leader Sardar Balkar Singh, a victim of India's terrorism and in charge of the United Front of Sikhs, announced that the Sikh nation will work together with their Kashmiri brethren in order to achieve sovereignty for both Kashmir and Khalistan, the Sikh homeland that waits to be freed from Indian occupation.
He also stressed that they were present to show solidarity with their Kashmiri brothers and fully support to their just cause. They were also carrying banners displaying "The Indian Government must cease the illegal occupation of Khalistan."
The Sikh leader said the Sikh nation has been struggling for the sovereignty of Punjab (Khalistan), which is also occupied by the Indian Government since the day India received freedom from Britain on August 15, 1947. This was day when the Sikh nation and PUNJAB were 'robbed' by the deceitful Indian government masters and made the Sikhs a 'Landless Sikh Nation." So far, India has murdered hundreds of thousands of innocent Sikhs since 1984.
 
Habib Yousafzai,  a member and spokesperson in Toronto for the World Kashmiri Diaspora Alliance, strongly demanded that, "The Indian democracy must honor its own words to the inhabitants of Jammu and Kashmir whose sovereignty is disputed as per various United Nations resolutions. Their fate should be decided by the right of Self-Determination by the people of Kashmir. The New Delhi administration, he said, must:
i. declare ceasefire against Kashmiri innocent peoples
ii. remove curfew, and
iii. withdraw all its armed forces to let the people of Jammu and Kashmir decide their own destiny and the future for their coming generations, by a democratic verdict of referendum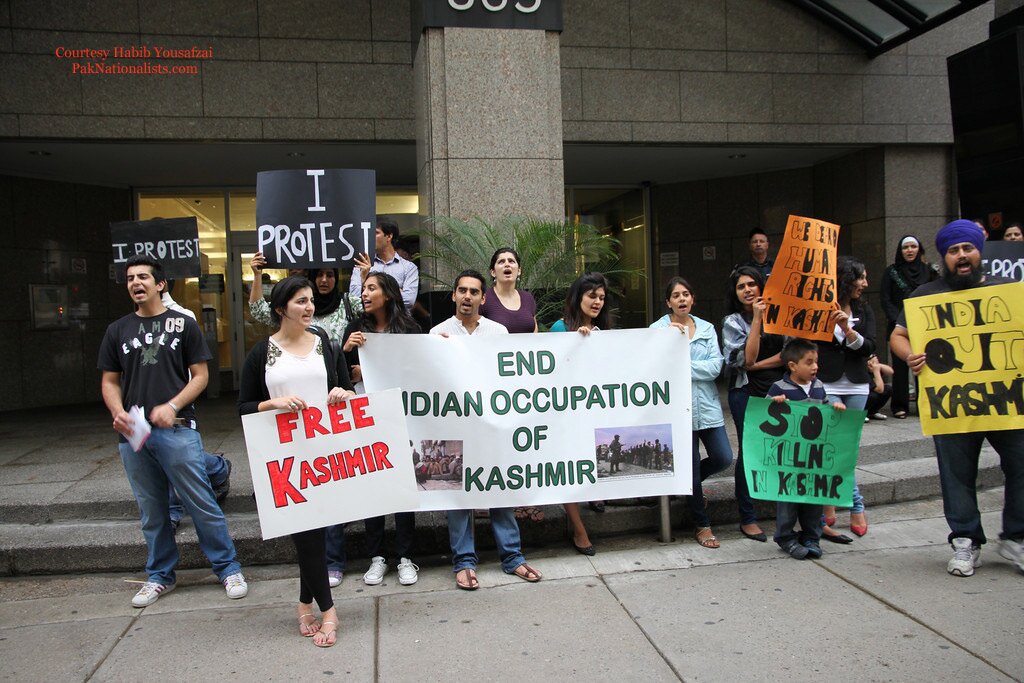 Others who addressed the rally included Mr. Mohammed Aslam Rathure, Mr. Hussain Yousafzai, Mr. Mueen Hakak, Mr. G.S. Dhaliwal, Mr. Altaf Qazi, Sardar Kuljit Singh and Ms. Khaoula Siddiqi.
2007-2010. All rights reserved. PakNationalists.com
Verbatim copying and distribution of this entire article is permitted in any medium
without royalty provided this notice is preserved.