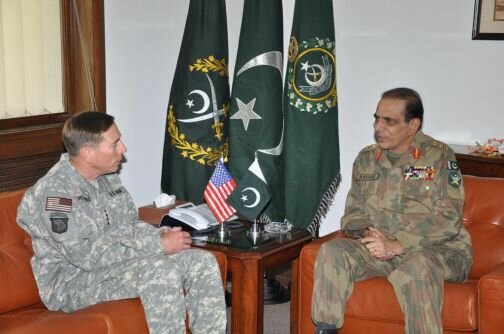 Print This Post

 Email This Post
Unfortunately, pro-US elements in the Pakistani media and government have launched a campaign to push the Pakistani military into a debacle in North Waziristan, where Pakistan will again be fighting its own citizens. The biggest beneficiary will be TTP and other groups that are being supported by Pakistan's enemies on Afghan soil.    
By Dr. Shahida Wizarat
Tuesday, 4 May 2010.
WWW.PAKNATIONALISTS.COM    
KARACHI, Pakistan—A concerted effort is now under way in Pakistan to push the military to start an operation in North Waziristan.  This can be seen from the visit of Gen. Petraeus to Pakistan in which he tried to exert pressure on the civilian and military leadership to start a military operation in North Waziristan and for Pakistan to get involved in the Afghan war in Kandahar.    
Extending the war will act as a catalyst. It will unleash mayhem, bomb explosions, and terrorist attacks. A terrorist attack on India, followed by the latter committing aggression against Pakistan when the Pakistan army is bogged down in Balochistan, FATA, and Sarhad will push things to a head in the standoff with India.      
Pakistan will be fighting its own citizens in FATA and Khyber-Pakhtoonkhawa [a combination of the brainwashed, the innocent and those working for other powers] plus the Afghan Mujahideen and India.    
You don't have to be a strategist to visualize what the outcome of this all-out war against Pakistan will be. The suggestion put forward by some intellectuals that we fight alongside US forces i 
n North Waziristan is not only naive but most deplorable. It just shows that we are an incorrigible nation. It is naive because the US has always ditched us, yet we always look up to the US for our security. The memories of the arrival of the US naval fleet to rescue Pakistan in 1971 are still fresh in our minds. It is deplorable because no country kills and maims its own citizens along with foreign forces. 
Pakistan should also not get involved in the Kandahar offensive. NATO is an occupying force in Afghanistan, and to help an invading army against a brotherly country is immoral, unethical and will not be a recipe for disaster for Pakistan, already embroiled in serious crises as a result of following US dictations.
Please raise your voices against this impending diseaster.
The writer is an eminent political economist.    
© 2007-2010. All rights reserved. PakNationalists.com
Verbatim copying and distribution of this entire article is permitted in any medium
without royalty provided this notice is preserved. 
      

This work by PakNationalists is licensed under a Creative Commons Attribution-No Derivative Works 3.0 Unported License.