Print This Post

 Email This Post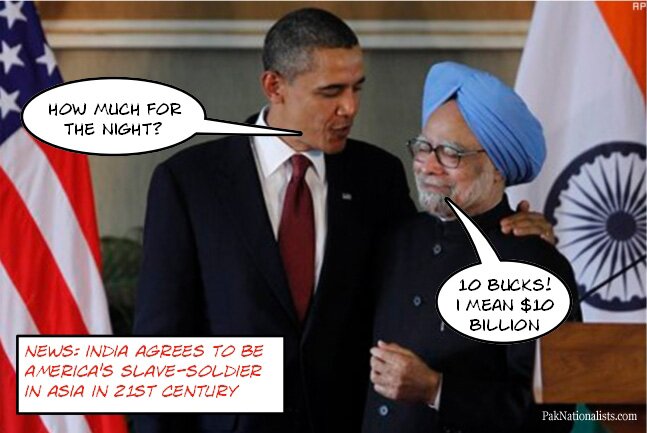 Forget the Obama-Singh hug, here is the truth about the biggest two-way blackmail in world diplomacy in recent history: Kashmir for Boeing.
SPECIAL REPORT | Wednesday | 10 November 2010
WWW.PAKNATIONALISTS.COM
NEW YORK CITY, US—India's renowned activist and novelist Arundhati Roy has made another impassioned plea for Kashmir's right to self-determination in an op-ed in The New York Times. In her ironic style, she has ridiculed US President Barrack Obama, the Indian military and government, and reintroduced Shakeel to the world, the young Kashmiri whose 22-year-old wife and 17-year-old sister were raped and murdered by Indian occupation soldiers and thrown into a river.
But the best part of her op-ed, titled, 'Kashmir's Fruits of Discord', is her take on the Indo-US double blackmail: how the United States is using Kashmir to blackmail India, and how India is using arms purchases to blackmail the US.
This is how she puts it: 
"While [Obama] spoke eloquently about threats of terrorism, he kept quiet about human rights abuses in Kashmir. Whether Mr. Obama decides to change his position on Kashmir again depends on several factors: how the war in Afghanistan is going, how much help the United States needs from Pakistan and whether the government of India goes aircraft shopping this winter. (An order for 10 Boeing C-17 Globemaster III aircraft, worth $5.8 billion, among other huge business deals in the pipeline, may ensure the president's silence.) But neither Mr. Obama's silence nor his intervention is likely to make the people in Kashmir drop the stones in their hands."
There is widespread suspicion among analysts that President Obama has traded Kashmir for India's Boeing order.
Roy reminded everywhere that a week before winning the election in 2008, Mr. Obama pledged to solve the international dispute of Kashmir between Pakistan and India. But seeing 'consternation' in India over the remark, Obama hasn't said a word about Kashmir since.
But India finds itself increasingly unable now to keep the lid on its Kashmir genocide like it has done all these years. The very fact that New York Times has published an op-ed about Kashmiris' right to self-determination and India's human rights abuses is a sign the tide is turning.
She talked about her latest visit to the occupied region where Indian military has banned international observers.
"I was in Kashmir 10 days ago, in that beautiful valley on the Pakistani border, home to three great civilizations — Islamic, Hindu and Buddhist," she wrote.
Her descriptions are vivid: 
"The atmosphere on the highway between Kashmir's capital, Srinagar, and my destination, the little apple town of Shopian in the south, was tense. Groups of soldiers were deployed along the highway, in the orchards, in the fields, on the rooftops and outside shops in the little market squares. Despite months of curfew, the "stone pelters" calling for "azadi" (freedom), inspired by the Palestinian intifada, were out again. Some stretches of the highway were covered with so many of these stones that you needed an S.U.V. to drive over them."
The most chilling part is where she described a man whose wife and sister were raped and killed by Indian occupation soldiers: 
"We were on our way to visit a man called Shakeel Ahmed Ahangar. The previous day he had come all the way to Srinagar, where I had been staying, to press me, with an urgency that was hard to ignore, to visit Shopian.

I first met Shakeel in June 2009, only a few weeks after the bodies of Nilofar, his 22-year-old wife, and Asiya, his 17-year-old sister, were found lying a thousand yards apart in a shallow stream in a high-security zone — a floodlit area between army and state police camps. The first postmortem report confirmed rape and murder. But then the system kicked in. New autopsy reports overturned the initial findings and, after the ugly business of exhuming the bodies, rape was ruled out. It was declared that in both cases the cause of death was drowning."
The fact that a US president was a stone-throw away from the killing fields of Kashmir and failed to mention it does represent a momentary victory for India. It is almost like watching Slobodan Milosevic, or the rapists and murderers within the Hutus and Tutsis of Rwanda, walk away with genocide.
But Roy says India shouldn't gloat: 
"India's military domination ought not to be confused with a political victory. Ordinary people armed with nothing but their fury have risen up against the Indian security forces. A whole generation of young people who have grown up in a grid of checkpoints, bunkers, army camps and interrogation centers, whose childhood was spent witnessing "catch and kill" operations, whose imaginations are imbued with spies, informers, "unidentified gunmen," intelligence operatives and rigged elections, has lost its patience as well as its fear. With an almost mad courage, Kashmir's young have faced down armed soldiers and taken back their streets."
© 2007-2010. All rights reserved. PakNationalists.com
Verbatim copying and distribution of this entire article is permitted in any medium
without royalty provided this notice is preserved.