Mr. Zardari, Your Friend Sarkozy Is Bashing Pakistan
Mr. Zardari, Your Friend Sarkozy Is Bashing Pakistan
President Zardari risked his political career by insisting to visit his French buddy when Pakistanis were drowning in floods. Now, can he leash his Pakistan-bashing friend, please?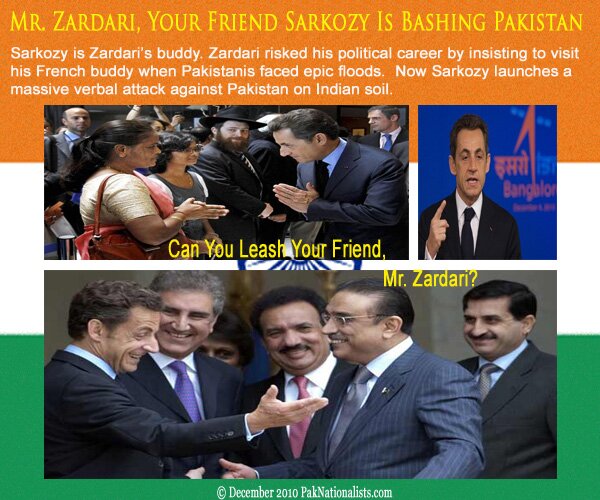 AHMED QURAISHI | Thursday | 9 December 2010
WWW.PAKNATIONALISTS.COM
ISLAMABAD, Pakistan—It is becoming easy to fool India and grab some of its money. If you are a world leader, this is what you should do:
Announce you're coming to New Delhi for a 'landmark' three- or four-day visit, hurl a few curses at Pakistan while you're on Indian soil and then sit back and watch India dole out your share of some of the billions of dollars that India is saving for military armor that it won't spend on ending poverty, the world's largest.
That's what British prime minister and the US president did. The latest one to follow this line is Nikolas Sarkozy, the French president. He dashed this week to the Indian capital, spent four days cursing Pakistan, and then begged the Indians to give French companies a few deals. Cameron and Obama left with the booty. But not Sarkozy. This time around the Indians smelled a rat when the French president announced he's coming for another 'landmark' visit. 'Na babu, not again!' This is how an Indian website quoted Indian foreign office officials whining about Mr. Sarkozy's trip. Another 'landmark' visit to India means New Delhi will have to dish out money to reward the latest foreign leader to bash Pakistan on Indian soil.
Sarkozy was sent off with an Indian promise it would 'consider' buying two nuclear reactors worth a little over nine billion dollars, and some change thrown in to generate favorable headlines for the Frenchman and his celebrity wife as they returned home on Tuesday.
French president's insulting remarks about Pakistan were astonishingly ignored in Islamabad. Almost no coverage whatsoever in the entire Pakistani media. This says a lot about France's weight in the region. It also says a lot about how Pakistan-bashing has become business as usual for the Pakistani ruling elite.
What drew my attention was his visit to a memorial in Mumbai for 18 Indian policemen killed in the Mumbai attack in 2008.
I remembered some 61 innocent Pakistanis who perished on Indian soil in 2007. That's triple the number of Indian policemen and more than a third of Mumbai attack victims. They believed in India's peace pledges and traveled to that country on a train called 'friendship', or Samjhota Express. It was blown up inside India. Three Indian military intelligence officers and a Hindu terrorist organization were arrested for executing the attack. They wanted to create an opportunity to blame Pakistan's ISI and Kashmiri freedom groups, hoping the pressure would force Pakistan into concessions during peace talks.
Today, everyone visits the memorial of 18 Indian policemen but no one remembers 61 Pakistanis burned alive in India.
The reason is that Pakistan's pro-American ruling elite has sold Pakistan cheap into someone else's war in exchange for US dollars. A former army chief General Musharraf did this first and now a pro-US Zardari government along with almost the entire Pakistani political elite, from Nawaz Sharif down to the rest of them, is doing the same thing to win the favor of the US embassy here.
Sarkozy is President Zardari's buddy. They allegedly raked in a few millions from kickbacks on a submarine deal back in the early 1990s. In July, when half of Pakistan was under water in epic flooding, Mr. Zardari refused to cut short his visit to France because, in his words, the visit was important for Pakistani diplomacy. But despite Mr. Zardari's robust diplomacy Mr. Sarkozy has condemned Pakistan on Indian soil and there isn't even as much as a whisper from Mr. Zardari's government. So much for diplomacy.
Pakistan's ruling elite, civilian and military, is incapable to tell other countries not to make Pakistan-bashing a ritual for anyone visiting India. Interestingly, all those slamming Pakistan are our government's and our military's allies in Afghanistan.
© 2007-2010. All rights reserved. PakNationalists.com
Verbatim copying and distribution of this entire article is permitted in any medium
without royalty provided this notice is preserved.
Article printed from PakNationalists.com | Home Of Pakistani Nationalists Online: https://ahmedquraishi.com