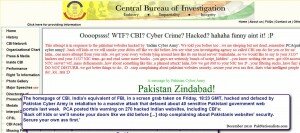 India Launches Probe Into Pakistani Cyber Attack Capabilities
Indian spy agencies are embarrassed and CBI registers a police case against Pakistan Cyber Army. But Indian officials decline to regret last week's unprovoked attack on forty websites owned by the Government of Pakistan. Indian intelligence agencies have launched a reassessment of Pakistani IT capabilities after the Pakistani retaliation.
DEVANAND MANJHI | Sunday | 5 December 2010
WWW.PAKNATIONALISTS.COM
NEW DELHI, India—Indian officials and IT experts of the country's premier domestic intelligence agency, CBI, are spending the weekend trying to restore the official website after it was hacked by the Pakistan Cyber Army. CBI has asked for help from National Informatics Center (NIC) and CBI's own cyber security experts.
The attack has stunned the country's government and IT industry. The CBI website known to be among the most secure in India and is directly connected 24/7 to the command center of the Interpol.
Pakistanis hacked the website after an attack by the Indian Cyber Army left 40 Pakistan government websites defaced. The PCA warned the Indians not to start a cyber war again and to 'cover your own asses' before attacking Pakistan's cyber infrastructure.
Yesterday, CBI registered a case against unknown persons for hacking and defacement of its official website by people who identified themselves as Pakistan Cyber Army.
The cases were registered under Section 43 and 66 of the Information Technology Act, an official spokesperson said here. Efforts were under way to restore the website for public interface at the earliest, he said. In a brief statement, the spokesperson said: "It has come to the notice of the CBI that its official website was 'unauthorisedly' accessed and defaced in the intervening night of 3 and 4 December.'
"A case has been registered in this connection in the cyber crime cell of the CBI and efforts are underway to restore the website with the help of National Informatics Centre (NIC) and the CBI cyber security experts," the official was quoted as saying by the Indian wire service Press Trust of India.
The message from the hackers also spoke about the filtering controls provided by the NIC, a body which mans computer servers across the country.
Indian intelligence agencies have been often warning the government about inadequate cyber security in its offices and that no security audit was being carried out. The "Pakistani Cyber Army" also threatened to carry out "mass defacement" of other websites if Indian attacks on Pakistani government sites were repeated.
While the banner and index of the website is intact, the group has posted a message, mocking India's premier investigating agency.
The message read: "This attempt is in response to the Pakistani websites hacked by 'Indian Cyber Army'. We told u before too…we are sleeping but not dead. Back off kids or we will smoke ur doors off like we did before…let us see what you investigating agency so called CBI can do."
Indian officials ordered Indian newspapers not to highlight the earlier attack by the Indian Cyber Army against websites owned by various departments of the Pakistani federal government. No Indian official was ready to come on record regretting that attack which led to the retaliation against CBI.
CBI's own cyber security experts are reassessing Pakistani IT capabilities. Of special interest is whether CBI's website was penetrated by hackers associated with Pakistani military or intelligence agencies, and whether the Government of Pakistan has launched an unannounced cyber monitoring program with capabilities to attack other countries. Indian officials are also interested to know if this attack signifies that Pakistan is actually developing cyber penetration capabilities that were not previously known.
CBI's site is one of 270 Indian websites, mostly privately owned, that were attacked by the Pakistan Cyber Army.
© 2007-2010. All rights reserved. PakNationalists.com
Verbatim copying and distribution of this entire article is permitted in any medium
without royalty provided this notice is preserved.
Article printed from PakNationalists.com | Home Of Pakistani Nationalists Online: https://ahmedquraishi.com